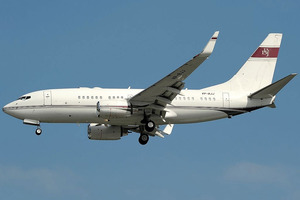 Two companies that designed and installed custom aircraft interiors have settled a High Court dispute involving the "VIP" fitout of a Boeing business jet for technology giant Samsung.
The now shut-down Aerospace Developments was in a stoush with Air New Zealand subsidiary Altitude Aerospace Interiors over work done on two jets.
Aerospace claimed the two companies had a relationship in the nature of a joint venture where it would support Altitude getting contracts in return for receiving work if the tenders were won.
But Aerospace director Marty Verry told the Herald earlier this year the company was "shut out" of two projects by Altitude and because of this it had to wind up its operations.
One project was a complete "VIP fitout" of a Boeing business jet owned by Samsung Electronics, Verry said at the time.
This plane touched down in New Zealand for its VIP fitout at Altitude last year.
Boeing business jet fitouts can cost up to $34 million.
Verry said the other project at the heart of the dispute involved work done on a plane owned by Orient Global, the investment business started by New Zealand-born billionaire Richard Chandler.
Aerospace had filed action seeking damages and the dispute was due to be heard in the High Court at Auckland next week. But a lawyer involved with the case told the Herald yesterday the matter had been settled.
Verry confirmed that the case had been settled "recently" but that he could not go into more detail on the terms.