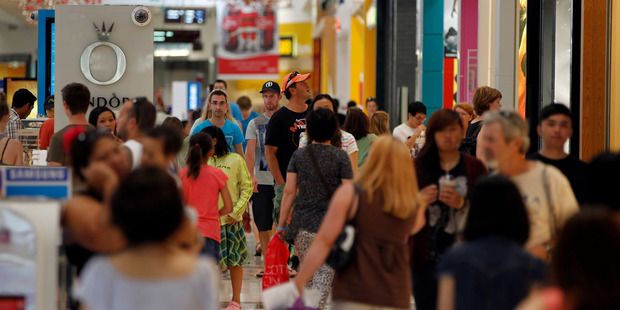 What constitutes quality in apartment developments went under the spotlight in the Environment Court yesterday as the case for building towers up to 16 levels around Milford Mall continued.
Milford Centre wants to develop its land around the mall but Environment Court Judge Jeff Smith quizzed urban designer Graeme McIndoe about good blocks.
The judge said he had difficulty with a proposal for 70sq m apartments being called quality when many owner-occupied apartments tended to be around 120sq m. The average house size was 202sq m, said the judge, who is sitting with commissioners John Illingsworth and Alex Sutherland.
Good apartments tended to have larger floor plates, Judge Smith said.
"I've never met an architect who designed a building who said it was rubbish. Architects always say it's a high-quality design," the judge told Mr McIndoe, asking how it could be claimed the Milford proposal was for quality apartments.
The visual merits of blocks including Takapuna's Sentinel and Spencer on Byron, Metropolis and Scene One, Scene Two and Scene Three in the CBD, Newmarket blocks and Orewa's Nautilus were raised. Mr McIndoe, giving evidence for Milford Centre, said Hobson St and Nelson St apartment blocks tended to have a concentration of smaller units.
Pushed for examples of good apartment design, Mr McIndoe cited Parnell's Trinity apartments and Christchurch's Oxford apartments but the judge said many Auckland apartments had issues over the body corporate, weathertightness, design or apartment size. Judge Smith said he struggled to see why people would choose the Milford proposal when they could buy apartments of 80sq m or larger in retirement complexes in the area.
"They seem to offer at least the size you're talking about, if not more," Judge Smith said.
Mr McIndoe gave evidence that the development would result in a significant change in Milford's town centre, saying it fitted the intensification strategy. That was justification for the proposal, he said. The large site was in single ownership, allowing the chance for a comprehensive development of tower blocks.
Auckland Council is to call experts and the case is continuing this week.
Milford Mall proposal
Omana Rd southern tower: 16 storeys
Omana Rd northern tower: Up to eight storeys
Milford Rd tower: Up to 11 storeys
Car parking: Up to seven levels
Source: www.milford2020.co.nz