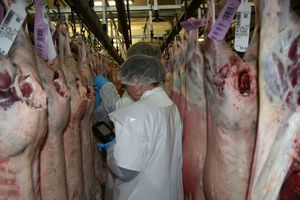 Silver Fern Farms, the country's biggest meat processor, said it had hired PricewaterhouseCoopers (PwC) to undertake a review of the company after it suffered a $28.6 million loss for the September year.
The loss, which narrowed from a $31.1m shortfall a year earlier, was put down to company's sheep meat operations after a spike up, then collapse, of that market from January 2012.
Sheepmeat market consumption and pricing continued to decrease in the first half of the 2012/13 year, resulting in further write downs of stocks, Silver Fern said.
Dunedin-based Silver Fern - previously PPCS - said it had carefully managed stock to avoid further price depreciation.
"While the market collapse 20 months ago had a profound impact on the company, the result is clearly very disappointing and unacceptable," outgoing chairman Eion Garden told a conference call.
The market's collapse dramatically affected two financial years due to large stock positions over the September 2012 balance date.
Export delays at the Chinese border - caused by meat certification issues - meant 900 Silver Fern containers sat on wharves for several weeks, costing the company $2m.
Outside sheepmeat, Silver Fern said its beef, venison and by-products performed well over the period.
The company said its outlook for the year was favourable.
"There is growing demand from China, lower global availability of sheepmeat supply and an awareness by key European and US markets of the need to secure stock to avoid being unable to meet consumer demand," Silver Fern said.
The result comes at a time when expectations for change are running high in what for many years has been a dysfunctional industry.
Silver Fern said it was working with PwC to carry out a strategic review of the business, focusing on future options on the back of stalled industry aggregation discussions.
"It is clear something needs to change, and as a farmer-owned co-operative it was incumbent on us to not only ascertain the appropriate path for our Silver Fern Farms' shareholders, but also how we can make a difference within the overall industry model," Garden said.
PwC will report to the board mid-way through the season.
Silver Fern, along with neighbouring Alliance Group, account for 52 per cent of the New Zealand meat processing industry.
Annual meetings for Silver Fern and Alliance, set down for next month, could lead to changes for an industry grappling with overcapacity issues.
At board level, Southland farmer Murray Taggart this year replaced long-serving chairman Owen Poole at Alliance. At Silver Fern, Garden wil hand the reins over to deputy chairman, Rob Hewett.
Meat Industry Excellence (MIE), a group formed to try and effect change in the industry, has put up Don Morrison as a candidate for Alliance and has put its weight behind West Otago farmer Richard Young and Gisborne farmer Dan Jex-Blake for Silver Fern.
Alliance's annual meeting is due on December 13 and Silver Fern's is set down for December 18. Both companies have in the past been merger prospects but an attempt to marry the two in 2008 failed.
The industry is estimated to have lost about $200 million last year. Early this month, Alliance reported an operating profit of $10.9 million for the September year, after suffering a $57 million loss the previous year.
According to New Zealand Beef and Lamb, there are 16 companies, with 36 plants, processing lamb and adult sheep.
Silver Fern is based on a hybrid cooperative model. Its shares, which are quoted on the Unlisted trading platform, traded last week at 50c, off its low for the year of 40c, but well down from 80c a share in January.