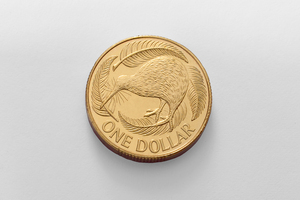 The New Zealand dollar declined after better US jobs data boosted speculation the Federal Reserve may pull back its monetary stimulus sooner than most investors expected.
The kiwi dropped to 82.34 US cents at 8am in Wellington, from 82.40 cents at the New York market close and 83.27 cents at the market close in Wellington on Friday. It touched a week low of 82.24 cents early on Saturday. The trade-weighted index fell to 77.05 from 77.51 in Wellington on Friday.
The US dollar index, which measures the greenback against a basket of currencies, jumped after a report in the US on Friday showed a key labour market indicator watched by Fed officials rose more than expected in October, even as the government shut down in the first half of the month. That prompted some investors to speculate the Fed may pull back on its US$85 billion a month bond buying programme as early as December, which would reduce the amount of US dollars in circulation.
"A surprisingly strong US payrolls report pushed US interest rates and the US dollar sharply higher," Imre Speizer, markets strategist at Westpac Bank in Auckland, said in a note.
"October saw 204,000 jobs added, versus 120,000 expected, and there were positive back revisions," Speizer said. "This caused the market to reassess the timing for Fed tapering, some expecting it could be as early as December."
Of Fed officials commenting after the release, Atlanta Fed President Dennis Lockhart said a December taper remains on the table, San Francisco Fed president John Williams said the jobs report was encouraging and Fed chairman Ben Bernanke said there is a lot of slack in the labour market, according to Speizer.
Meanwhile, Wall Street Journal writer Jon Hilsenrath, whose commentary is closely watched by traders, said the October report was unreliable given the government shutdown.
US banks are closed today for the Federal Veterans Day holiday.
In New Zealand today, a report on retail card spending for October is due at 10:45am.
The New Zealand dollar declined to 87.79 Australian cents from 88.03 cents on Friday, and was little changed at 81.69 yen from 81.72 yen. The kiwi dropped to 51.44 British pence from 51.73 pence on Friday and fell to 61.65 euro cents from 62.09 cents.