Successful chef now aiming to build a reputation beyond New Zealand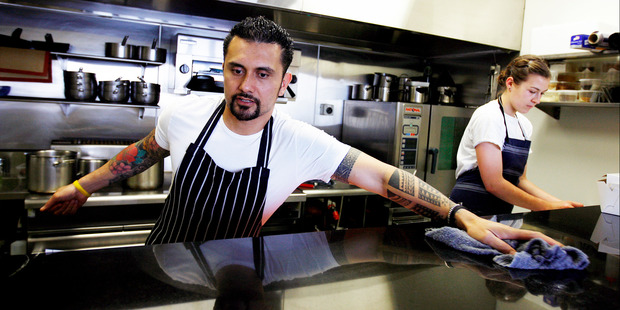 Chef Michael Meredith's one wish is to be able to clone himself.
Having a team of Merediths with the same ethics and work habits would make it easier to manage the demands on his time, which include culinary events around the world, as well as working in the kitchen of Merediths, his restaurant in Dominion Rd, Auckland.
When he first opened the doors of Merediths six years ago, all he was worried about was the food. It meant long hours and compromising on the time spent with his young family, but Meredith, 38, says he now realises that even though he loves cooking, there is more to life than work.
"I really had to change the way I run the kitchen," he says. "I had to start to trust the staff to implement more. I'm still hands on but, if I step out to do things, they can still cope without me."
Like most chefs, Meredith's dream had always been to open a restaurant.
"For many chefs, it's almost an extension of what they are and who they are because, to have your own business, it's more about a reflection of what your philosophy is about, especially with food."
After time spent working in other people's restaurants, including stints in New York and at Auckland restaurants Antoine's, Vinnies and The Grove, it was time to stamp his mark on his own kitchen.
He needed capital to get going but found that when it came to the crunch, people who had promised backing fell away.
A silent partner, who he has now paid back, came through with the $500,000 needed to set up. That investor also provided some of the business nous needed to get the restaurant running.
Although Meredith was adept at costing food for the kitchen, previously he could walk out at the end of the night and not worry about cashflow and the other elements of a successful restaurant.
"The business side of things really kicks in when you know you have to pay taxes."
Originally, his former spouse managed that side of the operation but, when she stepped out nearly two years ago, there was a huge amount to learn.
"Routine is a big thing in my life. Every day has got a set thing to be done so when you have these steps in place it absorbs a bit of the stress when it does comes up."
Merediths offers only a degustation menu, a series of small, gourmet tastes costing up to $140 per person, which automatically sets it apart from most restaurants.
Meredith is interested in taking that high-end experience and creating a brand for himself and the restaurant beyond New Zealand.
"There are a lot of world-standard restaurants here but we never get the media attention down here."
This month, he'll be heading to the United States to guest lecture at the Culinary Institute of America Worlds of Flavour conference.
Last month, it was an appearance at the Sydney leg of international food festival Omnivore.
The overseas travel, generally two to three times a year, is an opportunity to step out of the kitchen, expose himself to new ideas, represent the restaurant internationally and come back refreshed.
At Christmas, Meredith will close the doors for a brief annual break from the kitchen, but it won't necessarily mean a holiday.
Instead, he'll be overseeing a refurbishment of the restaurant, prepping it for that hoped-for international attention.