Only Greeks spend more than Kiwis on homes, OECD report on 34 countries shows.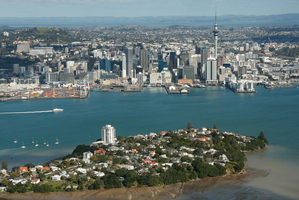 Real estate agents do not foresee a big drop in Auckland house prices as a result of new Reserve Bank lending curbs.
October data out from Auckland's biggest agency, Barfoot & Thompson, and New Zealand's biggest, Harcourts, showed Auckland and northern prices continued to surge, with Barfoot recording a $663,123 high.
Barfoot managing director Peter Thompson said the latest figures showed no effects from the curbs.
"In October, the average sales price compared to September increased by more than $5000, or 0.8 per cent, to $663,123 and the number of sales rose by 8.9 per cent to 1203," he said, predicting it could be six months before effects were felt.
Last month's deals would have been the end product of activity that would have begun in September or even August, he said.
Jo Clifford, Harcourts chief operations officer, and Debbie Brett, business development manager for the Auckland regional office, said the curbs had yet to have a cooling effect.
The average sale price was up 4 per cent on the September figure and the October average price of $645,259 was the highest in the past 12 months.
They said that there was an abundance of buyers who would pay whatever they had to for a property and, with stocks low and immigration increasing, this was likely to continue.