Bendon's overseas move was an opportunity for new underwear-maker Rose & Thorne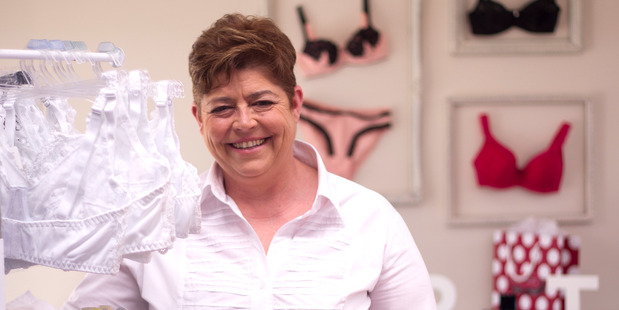 When women step behind the changing-room curtains at lingerie brand Rose & Thorne, they are unwittingly entering the firm's research and development zone.
Company co-founder Sue Dunmore laughingly admits the customers at its central Auckland fit studio are her "crash-test dummies".
The fledgling firm, formed out of the ashes of Bendon's 2011 decision to shift design to Australia, is gaining a loyal following among Kiwi women with its comfortable, well-made bras retailing at $25, half the price of similar products.
That's the result of Rose & Thorne scrapping the traditional approach to lingerie design and starting from scratch.
Dunmore was Bendon's head of design and product development and, with Stefan Preston, now a partner in Rose & Thorne, had boosted Bendon's fortunes with its successful partnerships with Elle McPherson and Stella McCartney.
She says time spent talking to women in the fitting room has been invaluable in creating the new label, something she rarely did before.
Conventional thinking in lingerie design is to create the look, mathematically grade it to industry standard sizes and try it on a fit model before sending it into production. It's a tradition Welsh-born Dunmore is steeped in. After qualifying as a silversmith, she began working at British shopping institution Marks & Spencer, before spending close to 20 years at Bendon.
The Rose & Thorne approach is to start with everyday women and design bras that give a comfortable fit for normal body shapes. "We started building up these pictures of, not necessarily fit groups, but I would say common needs."
Through a combination of technical fabrics and savvy design, the range took form around those fit requirements while still hitting an affordable price point. "Inherently, you've almost got a custom-made bra for a block of women.
"Now, the outer shell will look very much the same but what's going on underneath will mean that the bra is almost custom-made for that fit group."
Rose & Thorne's magic ingredient has been the designers and production specialists made redundant by Bendon's shift to Australia. "If you'd asked me to put my wish list together of people I would have approached, I didn't have to do that. They were all just tossed out on to the heap. It was just the most bizarre thing, the most bizarre thing I've ever seen."
Any one of the refugees from Bendon could have been snapped up by overseas-based lingerie firms but Dunmore was determined to keep her home here.
As well as attracting top design and production nous, the support of The Warehouse has been critical in establishing a retail channel to complement Rose & Thorne's online store. Not only did the company want its products to be available to all women, the need for big production runs to keep a lid on prices required a partnership with a volume outlet.
Dunmore says that in regional towns in particular, The Warehouse is an important retail option and the innovative design with its sympathetic, shape-based fit is perfect for a low-service environment.
"If we want to own the hearts and minds of Kiwi women, The Warehouse is the place to go and they were absolutely incredible."
The firm also got a recent boost when it won $250,000 of growth funding through the University of Auckland Business School Entrepreneurs' Challenge.
After two years in business, the cash support gives them the breathing space to develop a strategy to not only nail the New Zealand market, but take the brand to the United States.
There are new lines in the pipeline for next year, including a $30 bra for bigger sizes and a luxury range aimed at department stores, plus an ever-growing wish list from consumer converts.
All of which will see Dunmore and her fellow designers behind the curtains of her fit room "laboratory" for some time yet.