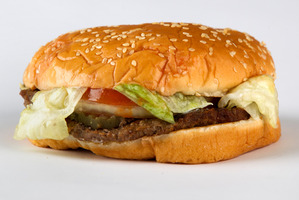 A Burger King advert promoting its burgers as a good hangover cure was not socially responsible, the advertising watchdog has ruled.
The Wicked Winter ad campaign, which said the BK breakfast burger would help people "recover from your big night out", was found to "glamourise and normalise excessive intoxication" by the Advertising Standards Authority (ASA).
The promotion saw the words Wicked Winter blurring in and out of focus, before saying: "I know what will cure this epic hangover, a bowl of cold, milky muesli, said no one ever. Recover from your big night out with the BK breakfast burger, it's hot, it's bacon-y and it's easy to eat when you're curled up in the foetal position."
A member of the public who complained about the ad, said it conveyed the impression that it was acceptable to have a hangover and promoted unhealthy drinking. They said it was made worse by targeting young people, in particular men between the age of 18 to 25-years-old, and telling them that "drinking to get a hangover is not only acceptable but has a cure".
In response, Burger King owner Antares Restaurant Group, said the ad in question was one in a series of six commercials with a 'Wicked Winter' theme, to tie into the campaign slogan, 'be wicked this winter'.
It argued a reference to having a hangover was a social reality for its target market, and said its brand "always uses cheeky humour and playful controversy in its communications".
"Humour based around the (negative) effects of drinking, while perhaps in poor taste to certain sectors of the community, is perfectly acceptable to others including many of this target. The singular letter of concern hopefully supports this," it said.
However, Burger King said that because winter was over the ad campaign had now ended and would no longer run on television.
A minority of the ASA board members agreed that drinking to the point of getting a hangover was a social reality and the ad was a reflection of that, however, overall the board ruled it was in breach of the advertising code.
It said the Burger King advert did not observe a due sense of social responsibility to consumers and society, and had glamourised and normalised excessive intoxication through the use of the language 'epic hangover', 'big night out', and 'curled up in the foetal position'.
The board said it "did not consider the suggestion that the advertisement was meant to be humorous saved it in this instance".
- APNZ