Townies to get mail just three days a week from 2015, but rural services won't charge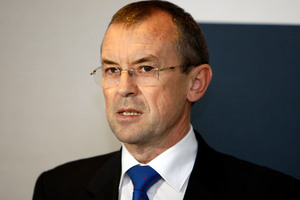 More than 1,000 posties and retail staff could lose their jobs after NZ Post got the green light from the Government to move to three-day-a-week deliveries and replace more Postshops with self-service kiosks.
NZ Post yesterday said it had secured agreement from the Government allowing it to move to three-day-a-week letter deliveries from 2015, but rural areas would retain their current services.
Spokesman John Tulloch said the company had 2,200 delivery staff. However, he dismissed suggestions that halving the delivery days from six would see that workforce also halved.
"That would be overestimating it. It wouldn't work like that because there's that six-day-a-week premium service we want to provide. Any number would be speculative at this stage."
Union spokesman Joe Gallagher said the change to outlets allowed under the new Deed of Understanding with the Government meant job losses were likely among the 900 retail staff as well as posties.
"There could be a 25 to 30 per cent reduction," said Mr Gallagher, postal industry organiser for the Engineering, Printing and Manufacturing Union (EPMU).
NZ Post chief executive Brian Roche confirmed the eventual job losses could exceed 1000.
Communications Minister Amy Adams said the reduced delivery days would help ensure the postal service remained viable. NZ Post has been signalling the need to make changes to its delivery services in the face of plummeting letter volumes.
She said minimum service levels for rural areas would be maintained because "the reality is that in the rural and urban areas the dynamics are different and it's much harder to maintain a viable postal business on a three-day-a-week basis than in the rural areas".
Ms Adams said without the move to three-day-a-week deliveries in urban areas, NZ Post "would be looking to the Government for subsidies that could well be in the range of $30 million a year or more".
The minister was criticised by the EPMU, which claimed she misled it in a letter on Tuesday about the changes. "It's not good enough for the Minister of Communications to claim 'negotiations are still ongoing with New Zealand Post' and the next day announce she is giving them everything they've asked for," Mr Gallagher said.
Ms Adams said the decision was signed off by the Cabinet on Monday but the announcement's timing was finalised only yesterday morning.
"I don't see why the union would think we would tell them before we told NZ Post."

The deeds
Postal delivery service for standard letter mail:
1998 Deed of Understanding
• Six days a week delivery to more than 95 per cent of delivery points.
2013 Deed of Understanding
• From July 1, 2015, not less than three days a week to 99.8 per cent of delivery points,
• Five days a week deliveries to Rural Delivery Points, except for those Rural Delivery Points which had lower frequency at June 30, 2013.