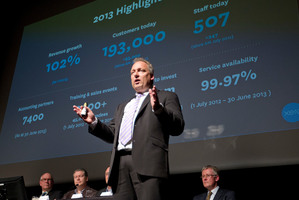 Xero's value has breezed past that of Mighty River Power this week and shares in the software company made gains for the fifth day in a row.
Xero's share price has rocketed up 50.4 per cent this week on the back of the $180 million capital raising it announced on Monday. Investors who took part and bought shares for $18.15 have seen paper gains of 48.7 per cent from Monday.
The online accounting software company, which listed on the NZX in 2006, is now worth $3.4 billion by market capitalisation, compared to Mighty River Power's $3 billion.
Xero's shares hit a new high yesterday closing at $27 while Mighty River Power made a slight gain of 2c, to close at $2.17.
Xero's huge share price growth comes even as the company is yet to turn a profit, with all earnings so far being poured back into rapid global expansion.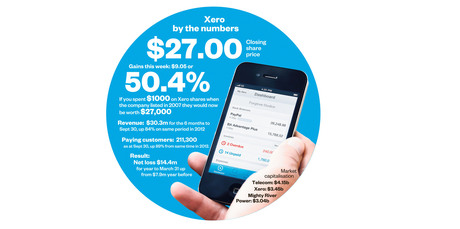 Speaking before he was named the Ernst & Young Entrepreneur of the Year for 2013, Xero chief executive Rod Drury said on Thursday most of the interest in the company's shares was coming out of the United States.
The US market is what Xero is now looking to crack and is the reason it raised the $180 million of new capital, most of which came from North American investors.
US investors accounted for $147 million of the capital raising, while Auckland-based Milford Asset Management contributed $16 million.
Armed with about $230 million of cash in the bank, the software firm is now poised to take on its American rival, Intuit, which has around 8000 employees compared with Xero's total of 600.
Drury said on Monday that Xero was starting to "come up on the foils and sail away" while Intuit was "struggling to move online".
Hamish Fletcher