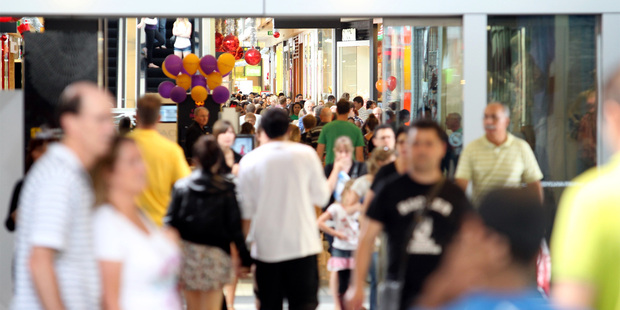 New Zealand consumer confidence rose this month, adding to signs the economy is growing at a faster clip, with the strongest recording for kiwis feeling better off than a year ago since January 2008.
The ANZ-Roy Morgan consumer confidence index rose3 points to 122.3 from 119 in September. The current conditions index rose 4 points to 120 and the future conditions index gained 3 points to 124.
"Consumer sentiment remains elevated and consistent with perky spending trends," ANZ New Zealand chief economist Cameron Bagrie said in his report.
The combination of consumer confidence and business sentiment surveys signal an economy in a firm economic expansion with the potential to grow at an annual pace of almost 4 per cent, he said. Business confidence climbed to a five-year high in September, according to the ANZ Business Outlook survey released on Sept. 30.
"Anything around or slightly north of 3 per cent growth would put New Zealand amongst the strongest performers in the OECD next year," Bagrie said. "It's been a long time since New Zealand can claim such rock star status."
A net 34 per cent of the 981 respondents to the survey deemed it a good time to buy a major household item, still strong though at a 7-month low and down from 36 per cent in September. Still a net 7 per cent of consumers said they were better off than a year ago, an improvement on minus 4 per cent in the previous month.
Looking ahead, a net 32 per cent expect to be better off in a year's time, up from 28 per cent in September. Looking at New Zealand as a whole, a net 16 per cent expected economic conditions to be better, up from 13 per cent. Looking five years out, there was a 1 percentage point improvement to 23 per cent in those seeing better times ahead.
Two-year-ahead inflation expectations eased to 3.2 per cent from 4 per cent in September. House price growth expectations fell to 3.7 per cent from 4.6 per cent.