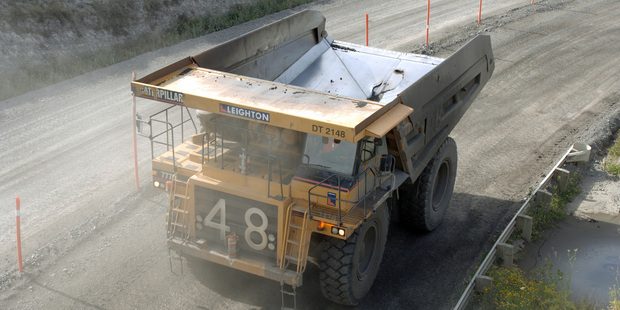 A move by the Bank of Tokyo to challenge the Solid Energy debt restructuring deal could backfire, leaving the bank being owed even more money, says Finance Minister Bill English.
A debt restructuring process aimed at rescuing the struggling state-owned coal miner Solid Energy was announced on October 1.
The Auckland branch of Bank of Tokyo-Mitsubishi UFJ is recorded as the second-largest lender to Solid Energy and is opposing the proposed deal.
Last week It lodged proceedings in the High Court in Auckland challenging the process.
Deputy Prime Minister Bill English said today that the Bank of Tokyo's actions were not unexpected and had been signalled throughout the process.
"Our advice is they have only a small chance of succeeding," English said.
"The irony is if they do succeed in stopping the transaction it could bring the company down and they would lose all their money.
"So, everyone here has an incentive for this transaction to get right through to the end."
English said the issue was not likely to turn into a diplomatic one.
Solid Energy faces insolvency if the deal stitched together between the company, the Treasury and Solid Energy's lenders doesn't go ahead.
There are six banks exposed to Solid Energy's financial woes - ANZ, Commonwealth Bank of Australia, TSB, Westpac, and the Bank of Tokyo-Mitsubishi UFJ.
All six are due to meet in Christchurch next week to approve the deal, which requires 75 per cent support by lenders, in proportion to the value of their lending.
Debt compromise documents show Bank of Tokyo has a total exposure to Solid Energy of $80.1 million.
The combined Australasian banks comprise 78.26 per cent of the $369.7 million in lending covered the compromise deal, meaning Bank of Tokyo will be bound by the agreement despite its failure to provide support - unless it succeeds in a legal challenge.
Under the deal, the banks will effectively write off $75 million of the outstanding lending by agreeing to swap debt for redeemable preference shares in Solid Energy.
In exchange, the government is also buying $25 million of redeemable preference shares and offering Solid Energy secured credit up to $130 million.
The compromise agreement sees some 20.4 per cent of the total $369.7 million being written down by the banks, before the government's $25 million contribution.
The RPS deal sees Bank of Tokyo and BNZ effectively writing off $16.3 million of debt each, while TSB takes a $13.8 million haircut. Westpac's hit amounts to $11.3 million, CBA's portion is worth $9.2 million, and ANZ is up for $8.2 million.
- with BusinessDesk