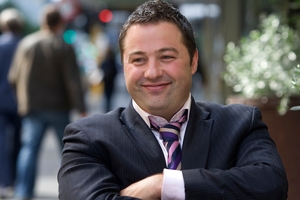 Duncan Garner and Sean Plunket have lifted RadioLive but the talk radio station is struggling to climb out of a ratings trough.
Auckland's latest audience survey by research firm TNS suggests RadioLive has bottomed out after a disastrous result six months ago when it lost 40 per cent of its listeners.
However, the station is well behind TRN's NewstalkZB, which strengthened its hold on the lucrative weekday morning slots with hosts Mike Hosking and Leighton Smith number one in their time slots in Auckland.
In March RadioLive owner MediaWorks played down its slide.
It said change had already been implemented at RadioLive, with Sean Plunket replacing Michael Laws on the nine to noon show and Duncan Garner in the late afternoon drivetime slot.
RadioLive's nine to noon audience share went from 1.4 per cent to 2.5 per cent under Plunket.
Duncan Garner - who received extensive promotion because of his role on TV3's 3rd Degree - went from 1.8 per cent to 3.4 per cent.
However, both rises were pulling out of a slump when RadioLive Auckland audiences six months earlier fell by about 40 per cent. Ratings are used by advertisers to decide whether to spend money with radio stations.
The latest ratings results coincide with announcements of line-up changes. At More FM, Marc Ellis has stepped down as breakfast co-host. The TNS survey found More FM's overall audience share dropped from 3.4 per cent to 2 per cent and that it lost nearly half of its share of the Auckland breakfast radio audience.
MediaWorks rival The Radio Network, part-owned by Weekend Herald publisher APN, recently announced that Radio Hauraki co-host Martin Devlin would move to a new role at Radio Sport. In the latest survey Radio Hauraki's 2.1 per cent share of the Auckland market fell to 1.5 per cent and its share of the breakfast audience dropped from 1.7 to 1.4 per cent.
TRN chief executive Jane Hastings said the previous good survey result was soon after a successful makeover of Hauraki and ratings were tracking well. Auckland audience share winners included MediaWorks' The Breeze, TRN's Newstalk ZB and independent station Radio Tarana.
Listener losers included MediaWorks' The Edge and TRN's Classic Hits.
RadioLive station manager Jana Rangooni said RadioLive had scored well and was focused on its target 40 to 60 year-old audience.