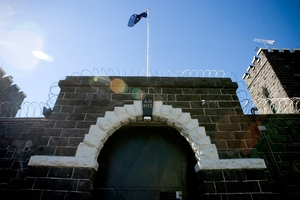 A building expert has expressed concerns about Auckland's historic Mt Eden Prison being empty.
Jeremy Salmond, a heritage architect of Devonport's Salmond Reed, said buildings needed to be used and it was bad for them to stand empty for long periods of time.
Mt Eden housed prisoners from about 1888, but from 2010 to 2011 the last prisoners were transferred into the new $218 million Mt Eden Corrections Facility, built alongside the Southern Motorway.
"It's very bad for any building, but especially for old buildings, to be left unoccupied," Salmond said.
"For a building that's valuable, for it to be opened up periodically, just opening all the doors and having people going through it is important" he said.
The prison's future appeared to be unresolved, he said, and decisions might need to be made at Government level about what happens next.
Various schemes had been suggested, he said, including turning the building into a museum.
A spokesperson for private corrections operator Serco New Zealand said the old building was owned and controlled by the Department of Corrections, even though Serco operated the new facility next door.
"The old building forms part of the perimeter fence so we have an interest in what the old prison might be used for because of that security issue," the spokesperson said.
Natasha Possenniskie, the Department of Corrections' property director, said a conservation plan was being developed for the building.
"Mt Eden Prison was closed and vacated in August 2011 ... Mt Eden Prison had been operational since 1856, but lacks the facilities for rehabilitation we need in a modern corrections system," she said.
"The exterior of Mt Eden Prison is classified as a Category One historic place under the Historic Places Act 1993 and the exterior and surroundings are classified as a Category A building in the Auckland City District Plan."