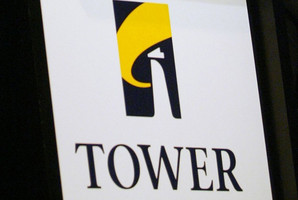 Guinness Peat Group has sold its stake in Tower for about $118 million leaving the UK threadmaker Coats as its sole investment and signalling the end of its portfolio divestment.
GPG sold about 69.6 million shares at $1.70 apiece, the company said in a statement to the NZX. That's 5.6 per cent below the level they traded On Friday. Today the stock fell 1.1 per cent to $1.78.
Sources close to the deal said the stake was sold to a range of instutional investors and retail brokers in a block trade over the weekend.
The deal was underwritten by First NZ Capital.
No one party will have a controlling stake but it's understood that several substantial shareholders - those with a stake of a least 5 per cent - are likely to emerge over the next few days.
Shares of Tower, which sold its life business to Fidelity Life Assurance for about $145 million in cash and liabilities in May, have fallen 6.4 per cent this year, while the NZX 50 Index climbed 18 per cent.
GPG plans to rebrand as Coats following the divestment process. The latest sale would lift its cash holdings to about 390 million pounds.
Shares of GPG last traded unchanged at 57 cents, valuing the company at $802 million. The stock is rated a 'hold' based on the consensus of seven analysts polled by Reuters.
GPG plans to return capital to shareholders once its asset sales are completed and the business transformed into Coats, though the total of the return depends on the UK's Pensions Regulator review of GPG's obligations under the Coats Pension Plan and Brunel Holdings Pension Scheme, which remain on its books.
-additional reporting Tamsyn Parker