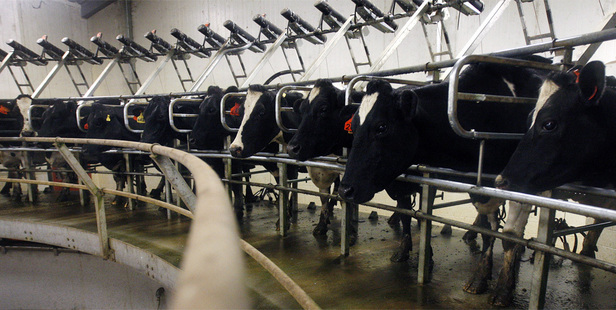 Tatua Co-operative Dairy said it put in a positive performance over 2012/13 but that the current financial year would be much tougher.
The tiny Waikato dairy cooperative said its payout for the 2012/13 season just finished would be $7.40 per kg of milksolids, down 10c on the previous year's, and in addition to a pre-tax retention of $1.17 per kg.
The payout compares with Fonterra's cash payout, announced last week, of $6.16, which comprised a farmgate milk price of $5.84 and a dividend of 32c a share.
Tatua's revenue was $229.7 million, up a touch from $228m last year. Earnings were $107.4m, down from $109m.
The co-operative said the $1.17 per kg retention would ensure the company retained the financial strength necessary to invest in new plant and equipment to support its strategy of growing its specialised added value business.
Prices for Tatua's bulk ingredient products rose steadily throughout 2012/13 and the co-op's product mix was favourable compared with milkpowder.
Foreign exchange management continued to be a challenge with the New Zealand Dollar remaining elevated throughout the year.
Tatua said the year had been positive but that 2013/14 would be more challenging.
"Our product mix of caseinate and anhydrous milk fat is lower returning currently than milkpowder and, if this continues for the balance of the year it will be more difficult for us to match the financial performance of the milkpowder companies," it said.
"It is still early days but the signs are there that 2013/14 will be a less competitive year for Tatua," it said.
The company's gearing ratio - debt divided by debt plus equity - fell to 28 per cent during the year from 34 per cent in 2011/12.
Last summer's drought meant the total supply collected from Tatua farmers came to 12.5m kg of milksolids, down from 13.2m kg in the previous year.
Tatua, which is based at Tatuanui, near Morrinsville, is made up of 87 farming families and 280 employees.
- APNZ