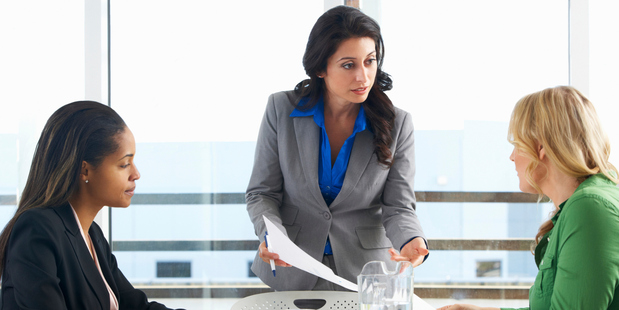 People have been talking about increasing women in leadership for decades, yet little progress has been made over the past 10 years.
Why? Many chief executives and human resources chiefs are frustrated at seeing their organisation's diversity efforts not bearing fruit and some even ask the question: Is it that many women don't want to be leaders?
Not so, says Kelly Bennion, diversity and inclusion practice lead for Kenexa, an IBM Company.
"Over the past few years I have spoken with organisations who have women middle managers eager to progress to senior leadership roles but don't know what else they should be doing."
Bennion says there are five common mistakes organisations make when rolling out diversity programmes.
• They set up opportunities for women to network with other women. While popular, these tend to be peer-to-peer support networking opportunities. Instead, offer networking opportunities for women with power-holders and decision-makers.
• They have mentors who just give women advice. Mentoring programmes are only valuable when mentors advocate at the top table, not just hand out advice.
• They focus just on women. Families Commission research shows that many fathers want to spend more time with their children but feel that workplace inflexibility is a barrier. When an organisation's culture is just as supportive of men working flexibly to look after family, we will start to see women getting more access to leadership opportunities.
• Increasing the number of women leaders is necessary, but doing this without creating an inclusive culture is a common mistake. Kenexa's research shows that a diverse and inclusive organisation leads to better business performance.
• They leave it up to HR. Many bosses give their HR teams the resources to get diversity happening, but executive sponsorship is essential. This ensures everyone knows the chief executive takes it seriously.
Understanding these five mistakes can help organisations fine-tune their diversity strategies - and start to see more and more women move into leadership roles
The Kenexa best workplaces survey is closed for this year. Winners and finalists will be announced at the annual awards evening on October 31. For more information visit bestworkplaces.co.nz.

- Supplied by Kenexa