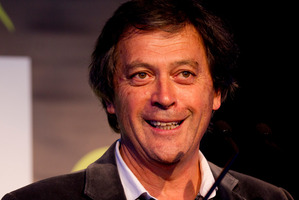 Government politicians are keeping their heads down over accusations Maori Television botched the appointment of a new chief executive.
Maori media entrepreneur Ian Taylor resigned from the board two weeks ago, and has revealed he was gagged and prevented from asking questions about parts of the selection process.
Labour broadcasting spokeswoman Clare Curran made allegations in Parliament about the process for the abandoned job and the role of chairwoman Georgina Te HeuHeu, and was heavily criticised by the Maori Party.
Finance Minister Bill English and Maori Party's Pita Sharples are not making any more inquiries and have accepted board reassurances that proper procedures were followed.
"Ministers are aware of Mr Taylor's reported comments," they said in a statement.
"They have been assured by the board chair that proper procedures were followed in the attempt to appoint a new chief executive.
"The ministers expect the board to follow correct procedure as it begins the recruitment process anew," English and Sharples said in a joint statement.
The selection process was abandoned amid a petition from at least 68 Maori TV staff opposing one candidate.
Ian Taylor, a high profile businessman, revealed yesterday he resigned over being stopped from raising questions about the search process.
Willie Jackson chairs Te Putahi Paoho - which selects four of seven board members - is backing Georgina Te Heu Heu.
Jackson complained last week that the Maori TV Board - including its appointees - did not consult the Maori language body.
Yesterday the RadioLive talkback host said Te Putahu Paoho backed Te Heu Heu yesterday and criticised media for negative coverage of Maori TV as it prepared for its 10th anniversary. Maxwell is a former key player in Putahi Po.
Maori broadcasting sources said that the row over Maori TV's process for selecting a CEO had caused rifts inside Maoridom with some critical of the decision by at least 68 staff to petition the board against Maxwell being appointed.
Yesterday Te Heu Heu defended her handling of the selection process amid questions In Parliament that one applicant had been favoured,