New boss of children's clothing chain fought her way from rough streets to top of corporate ladder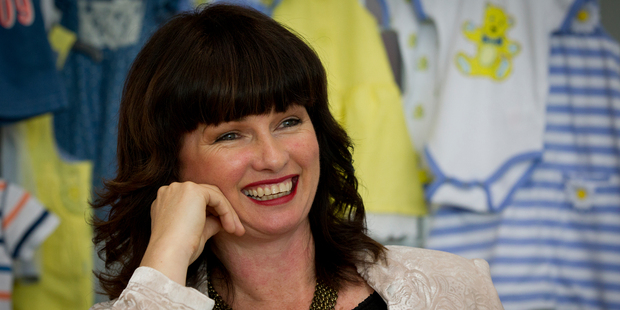 To say Di Humphries beat the odds to become the high-powered businesswoman she is today would be an understatement.
The newly installed chief executive of children's clothing retailer Pumpkin Patch - a former managing director of women's fashion chain Glassons - was born prematurely, weighing just one pound two ounces (0.5kg) , and spent the first year of her life inside an incubator.
Humphries didn't even have a name until she was three months old, such were the initial doubts over whether she would survive.
She's the youngest of six siblings - four boys and two girls - brought up by a solo mother on what, in her words, was one of the roughest streets of Aranui, a working class suburb of Christchurch.
"Mum scrimped and saved and worked many jobs just to support us kids," Humphries says, sitting in her new office at Pumpkin Patch's East Tamaki headquarters.
"You often look back at where you came from and I guess that's why I get on with everybody, from whatever stature of life beginnings."
A tragedy hit the family 15 years ago, when Humphries' mother Maureen Rolton and brother Glen were hit by lightning while crossing a Sydney street.
"They were running across the road to get out of the rain and [the lightning] arced off a tree and hit my brother and because mum was holding his hand it went straight through both of them," she says.
Glen was killed instantly.
Rolton lived on for many years after her son's death and passed away two-and-a-half years ago, but Humphries says her mother never really recovered from the lightning strike, which took a heavy toll on her central nervous system.
Humphries never went to university - but is reportedly a maths and physics whizz - and her first job after leaving Aranui High School was with the Inland Revenue Department.
"Coming from my family, you had to get out and get a job and start earning money," she says. "Back then I didn't think [university] was even an option. I've certainly learned a lot of life skills throughout my life."
After leaving the IRD she backpacked through India, other parts of Asia and Europe.
It was on her return to New Zealand that she first entered the retail trade - working on the shop floor at Trumps, a Palmerston North department store.
She left Trumps after two years to become assistant manager of Palmy's Glassons outlet and was promoted to manager within a month.
Humphries was in her early 20s, managing 28 staff.
"It was a steep learning curve."
It was the start of what became a long association with the now transtasman women's fashion chain.
Following a series of retail roles through the 1990s, including a four-year stint as head buyer for mail order retailer Ezibuy, Humphries returned to Glassons in 2000 to lead the brand's push into the Australian market.
She went on to become Glassons' managing director and an executive director of Hallenstein Glasson, the fashion brand's NZX-listed parent company.
Humphries joined Pumpkin Patch in November last year as its merchandise and brand director and stepped up to the top role last month after former chief executive Neil Cowie resigned to become the boss of hardware chain Mitre 10.
The CEO position is actually her third role with the children's clothing company - she spent two years working for a Pumpkin Patch sub-brand in the late 1990s.
And Humphries will be the only New Zealand-based female chief executive of a NZX-50 company after Summerset boss Norah Barlow steps down from the top job at the retirement village operator during the first half of next year, unless a woman takes the helm of another firm on the benchmark index in the meantime.
But with the company's share price chart currently looking like a Himalayan mountain range, Humphries has a big challenge ahead to keep shareholders happy.
Pumpkin Patch shares were having a stellar run up until the start of this year, rising 70 per cent from 85c in May 2012 to $1.45 by January 15.
They then fell as low as 78c in late June after the company downgraded its full-year earnings guidance, largely as a result of intense competition across the Tasman, which was resulting in margin losses from heavy discounting.
Pumpkin Patch, which will report its full-year result at the end of this month, is anticipating annual earnings after tax, before reorganisation costs, of $7.5 million to $9 million, down from $10.1 million last year.
The stock has since recovered ground and closed on $1.12 last night - still a long way off the almost $5 the shares were worth back in early 2007, before the onset of the global financial crisis and all the problems the economic downturn caused for retailers around the world.
The Australian economy is now being hit by a slump in demand for the country's all-important mineral exports and Humphries says that market is expected to remain challenging.
Pumpkin Patch - which operates 190 stores across Australasia and Ireland, as well as supplying its clothing via wholesale and online channels into many other parts of the world - is focused on increasing the regularity with which new ranges of clothing hit stores.
Humphries says that's one way of combating the heavy discounting that is plaguing the market.
"We are a speciality retailer and [discounting] is not a game we want to play," she says. "We want to ensure we're delivering on what the customer wants ... we're putting new collections in store every two to three weeks."
Humphries says Pumpkin Patch is also placing renewed focus on quality.
"We've upped quality for all of our ranges," she says. "We really want to get that uniqueness back into the brand."
Salt Funds Management managing director Paul Harrison said Humphries had already made important changes at Pumpkin Patch in her previous role as head of brand and merchandise.
"She's made a big impact on the quality and the design of the merchandise within Pumpkin Patch," Harrison says.
He says many market players were expecting her to eventually take the retailer's helm, but not as quickly as transpired after Cowie decided he'd rather sell hammers and nails than onesies and girls' skirts.
"While this might have happened a little earlier than most people were expecting I think she'll do a good job."
Pumpkin Patch chairwoman Jane Freeman says Humphries has a solid understanding of the firm's customers and what's required to move the company forward.
"She's a team player and good leader," Freeman says. "And she's got a good team around her - it should be a good combination."
Outside of business, Humphries has a seven-year-old daughter, Sophia, and is married to Phil McKendry, a high school teacher.
She's a former amateur athlete who represented Canterbury in women's rugby, and was also a part-time model "many, many moons ago".
Humphries played in the curtain raiser for the 1986 All Blacks test against France at Christchurch's Lancaster Park.
The Canterbury women's team lost to San Diego, while New Zealand claimed victory over the French, 18-9.
"My husband and I always joke - because he loves his rugby - that I made it to a higher grade [in rugby] than he did," Humphries says.
Does she still play? "Gosh no. Not at all. It was fun at the time."
Humphries says rugby was a good way of expressing her "competitive spirit". This will no doubt come in handy for leading one of the country's biggest retail businesses in the notoriously challenging kids' clothing market.