Grant Difford, founder, creative Director of Waking Giants, an independent creative agency that provides strategic planning, brand development and creative outsourcing for SMEs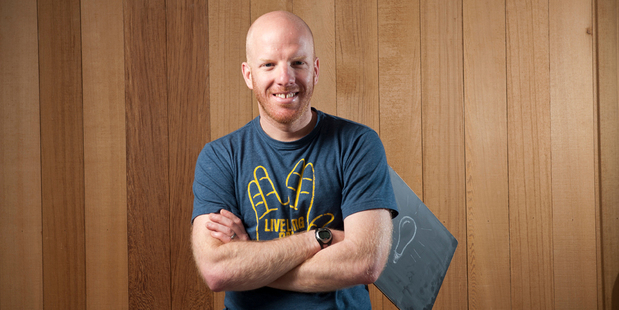 Have you taken your staff out of the workplace to work on the business?
After our first year in business I booked an afternoon tea at the Langham Hotel Club rooms. We wanted to celebrate our first year in business with a little aspirational experience. It gave us the chance to work in a neutral environment, have a little treat and share our insights from the previous 12 months.
What sorts of ideas did you come up with?
The best things that came out of the process were the daily tasks, areas of weaknesses and miscommunication. We were all able to share different points of view and solutions from various perspectives. It was a warts and all process. Also as we were growing, I wanted to share our vision with the team so they felt part of the journey. The insights that came out for the time confirmed we were on the right pathway and that we all understood our roles.
What was on the agenda?
Before the retreat I provided a questionnaire to the team to provide their thoughts on key areas of the business. How did their role affect others, where were the gaps, what opportunities were there and what individual goals did we want to achieve? Reviewing the business plan to make sure our vision was still clear, that we were working with the right subject matter/right clients. We outlined goals for the next three, six, nine, 12 months so that we could learn and evolve and were accountable to each other.
How did staff respond?
There is no doubt in my mind that in a small business, the more transparency you can provide the better. You can't and shouldn't hide the good and bad, staff can pick up easily when things are not right and if they really care about the business they work for. By engaging them in the process of achieving goals you will always get a better outcome. The response was great from the team, some had never been to a 5 star hotel and to be treated so well, so this provided a huge amount of excitement, and then there was a sense of value as their opinions were seen to be important. Collective buy-in was a great outcome of the afternoon.
What are your beliefs around giving staff time together to team build and brainstorm?
In a small team it is essential. Often the value of more than one brain outweighs the value of someone trying to be a hero. As a business we enforce daily team huddles first thing so that we are all on the same page for the day.
Are enough SMEs doing this?
It's not something I see in many smaller businesses. Generally it is Friday drinks, the Christmas BBQ and that's about it. There seems to be a little fear in really engaging with your team. They really are the best source of inspiration. Some of our most significant changes have come from the team approaching me and asking to improve, change or progress a situation or process.


Next week: The characteristics or the DNA of an entrepreneur is something which has fascinated many business schools around the world. At this week's Morgo conference, the event designed purely for entrepreneurs, I will see these people up close and find out what makes them tick.