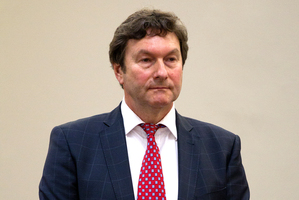 Former Forsyth Barr investment analyst Guy Hallwright's colleagues were embarrassed to be in his company following his conviction for grievous bodily harm, the Auckland Employment Court was told today.
Hallwright has appealed to the Employment Court after he failed to win back his job at an Employment Relations Authority hearing in March.
The authority had determined his conviction for running over a man had damaged the reputation of his former employer - investment firm Forsyth Barr - and his dismissal was justified.
Hallwright had sought reinstatement or about $600,000 for lost wages, compensation, hurt and humiliation.
Christopher Lambert, Auckland branch manager for Forsyth Barr told the Employment Court in Auckland today he did not readily give evidence against Hallwright as he regarded him as a personal friend.
However, he had noticed Forsyth Barr employees became embarrassed to be in Hallwright's presence when clients or other tenants of the building Forsyth Barr is located in were present.
At social gatherings, Hallwright's trial and subsequent conviction were often topics of conversation, he said.
"I'm personally aware of a number of comments questioning how Guy could retain his position."
Mr Lambert said Forsyth Barr had been building its brand for more than 70 years and he would have been surprised if the company had not lost business following the incident.
When other Forsyth Barr employees had made choices which fell short of what was expected, such as trading outside of the NZX's rules, they too had been summarily dismissed and Mr Lambert said he didn't see why Hallwright should have been treated any differently.
Former TVNZ head of current affairs Bill Ralston was called as an expert witness for Forsyth Barr today due to his extensive media background and current position as the head of a communications firm specialising in media strategies and crisis management.
"It was one of those stories you couldn't really miss," Ralston said in court of the media attention surrounding the case.
The media attention was exacerbated due to Hallwright's standing with Forsyth Barr and his public image associated with the company, Ralston said.
Both before and after his conviction, Hallwright appeared in the media as a commentator on the telecommunications industry.
Ralston referred to an abbreviation used in the public relations industry during crisis management - CAP - Concern, Action (to remedy), and Perspective.
Statements made by Hallwright went completely opposite to the CAP theory, Ralston said.
He said he was surprised Hallwright was not stood down after the initial charges were laid as the trial put Forsyth Barr as much in the dock as Hallwright was.
Ralston described comments made by Hallwright that he would not speak to the NZ Herald about his future job prospects as "negative and arrogant".
Under cross-examination, Hallwright's lawyer Harry Waalkens QC questioned Ralston's impartiality.
Ralston conceded he had made an appearance on television programme The Nation in September 2012 and made a comment that Auckland District Court Judge Raoul Neave was "outrageous" in the comments he made at Hallwright's sentencing about the media's coverage.
Hallwright was dismissed after being sentenced in August last year to 250 hours of community work and ordered to pay $20,000 in reparation to Sung Jin Kim, whose legs were broken when Hallwright struck him then drove away in an incident on Mt Eden Rd in September 2010.
In June, a jury found Hallwright guilty of causing grievous bodily harm with reckless disregard. A more serious charge was dismissed.
The hearing continues.