Firm's profit drops 31% but earnings tipped to lift next year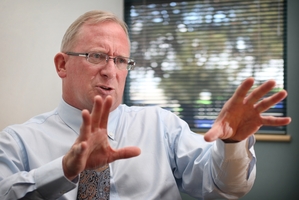 Nuplex Industries, which had cut its earnings guidance three times, posted a 31 per cent drop in full-year profit on weaker earnings from its resins division in the ANZ and EMEA (Europe Middle East Africa) regions and one-time charges. The specialty chemicals company expects to lift earnings in 2014.
Net profit fell to $42.9 million, or 21.7c a share, from $62.5 million, or 31.8c, a year earlier, the Auckland-based company said. Sales rose 3 per cent to $1.66 billion.
Profit lagged behind First NZ Capital's $44.4 million forecast though unchanged dividends for the year of 21c a share were expected.
Nuplex cut its guidance for a third time in May, citing a slump in Australian manufacturing which trimmed demand for resins, specialty chemicals and plastic additives. Its guidance yesterday was that the Australian market will remain flat while its home market of New Zealand will "show some modest growth".
Earnings before interest, tax, depreciation and amortisation (ebitda) fell 3.5 per cent to $126 million, in line with its May guidance of $124 million to $129 million. The company said it expected to beat that in 2014.
Net debt fell to $198 million at June 30, from $220 million a year earlier, and gearing fell to 26 per cent from 28 per cent.
"Looking ahead to the 2014 financial year, consistent with what we have seen in recent months, we are expecting flat trading conditions in Australia and Europe, modest growth in New Zealand and the Americas and steady growth in Asia," said chief executive Emery Severin.
Nuplex shares closed up 5c yesterday at $3.12. It is rated a "hold" based on a Reuters survey of six analysts with a median price target of $3.15.
The company embarked on restructuring of its ANZ manufacturing network last September and yesterday reported a $5.6 million after-tax writedown of obsolete equipment and a $5.5 million charge to write down its investment in Fibrelogic Pipe Systems, acquired in 2011 for A$26 million.
All up, significant items after tax amounted to $13.8 million, up from $3.6 million a year earlier.
In its biggest division of resins, total volumes sold climbed 8.1 per cent in the latest year, helped by a full-year contribution from Viverso (now Nuplex Germany) and gains in the Americas and Asia. Volumes fell in ANZ and its EMEA region.
Sales overall for resins rose 3.2 per cent to $1.35 billion and ebitda fell 8.5 per cent to $100.9 million. Resin sales fell 13 per cent to $349 million in ANZ. Asian sales rose 9.2 per cent to $279 million and ebitda rose 11 per cent to $29.4 million.
Existing EMEA sales fell 6.2 per cent to $363 million and ebitda dropped 21 per cent to $30.4 million, while Viverso sales soared 84 per cent to $204 million. Viverso ebitda gained 55 per cent to $14.6 million.
The Americas contributed an 8.7 per cent increase in sales to $156.8 million and ebitda was up about 29 per cent to $20.6 million.
The Specialties division, which includes Nuplex Specialties and Nuplex Masterbatch, posted a 2.2 per cent gain in sales to $311.8 million and a 23 per cent gain in ebitda to $25.5 million.
Nuplex Specialities is a distributor of products to industries including plastics, nutrition, pharmaceutical, healthcare, mining and farming. Masterbatch makes colour and performance additives for the plastics industry in Australia and New Zealand.