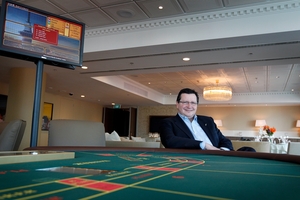 A group of 20 gamblers who left without paying debts stung SkyCity to the tune of $2.4 million, the company says. And it's thought the group have also ripped off other casinos.
At the company's annual results briefing yesterday, chief executive Nigel Morrison offered an insight into the gambling underworld, relating how a group of baccarat players from Asia ran up debts of $2.4 million at the Auckland casino, but did not pay the money back.
"These guys have also done this at other properties. It's a fact of doing business in this space," Mr Morrison said.
SkyCity "advances something in the order of $100 million" annually but it checked out people before it extended credit for gaming, he said, revealing that casinos in the United States, Asia and Australasia share information about gamblers.
He also revealed that the group of 20 had been active elsewhere.
SkyCity had increased criminal surveillance after being cheated, hiring a top casino crime-buster from the Sands at Macau, Mr Morrison said.
Chief financial officer James Burrell said SkyCity was still trying to get the $2.4 million back.
"They were in the property in the first half of the financial year and we are still working hard to recover the money but we have not been successful," Mr Burrell said.
A written presentation by SkyCity explained how the loss occurred.
"We have provided for doubtful debts of $2.7 million which relates predominantly to a group that visited the Auckland Casino in 1H13 [the first half of the financial year to June 30, 2013] that have dishonoured their debts," SkyCity's statement said.
SkyCity Auckland was getting more gamblers from China, Malaysia and other parts of Asia and the new private gaming salons and hotel suites for international VIP players "continued to prove popular with our overseas clients".