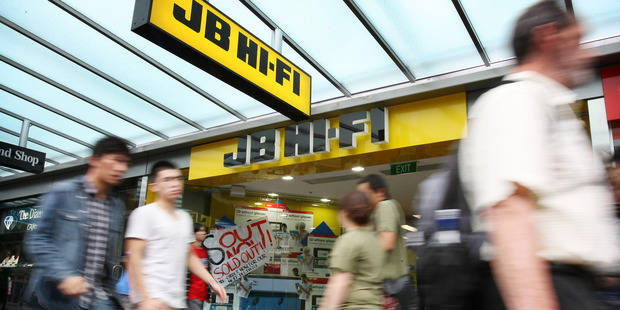 JB Hi-Fi has defied a difficult trading environment to lift sales and profit, and expects the trend to continue for the next 12 months.
The Australian electronics retailer made a net profit of A$116.4 million ($133.2 million) in the 2012/13 financial year, up more than 11 per cent on the previous year.
Chief executive Terry Smart said the profit growth was the result of stronger sales and improved margins.
JB Hi-Fi recorded sales growth of 5.8 per cent for the year, and sales were up more than 10 per cent in the second six months.
Sales are expected to grow by between 6 and 8 per cent in the 2013/14 financial year, Smart said.
"We have seen a good start to FY14 with the continuation of the positive comparable sales seen in the second half of FY13," he said.
"We see good growth opportunities ahead with a strong lineup of new products planned for the first half of the year, growth from our new store rollout programme, and the expansion of the home appliance categories." JB Hi-Fi had posted a strong result given the difficulties retailers face from subdued consumer sentiment and ongoing pressure to discount prices, said Invast chief market analyst Peter Esho.
"They really could have blown up this year but JB Hi-Fi is in a much better position than other retailers." he said.
Low interest rates may have helped the company.
JB Hi-Fi should benefit from the release of several new smart phones and tablets over the next year, as well as the growing market for smart TVs, Esho said.
- AAP