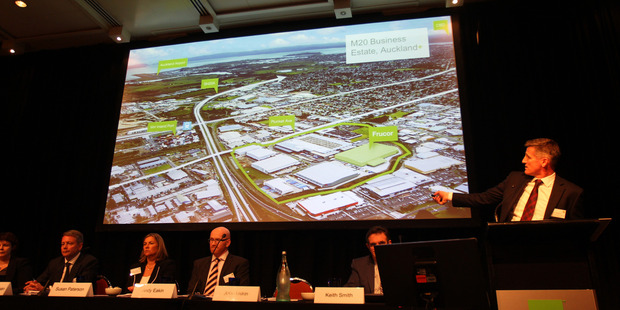 The board and investors in NZX-listed Goodman Property Trust struck an upbeat note at yesterday's annual meeting in Auckland where they reflected on the strongest year financially in half a decade, with $91.7 million of pre-tax profit.
Unitholders posed questions about a $100 million finance facility not yet drawn down, how rental growth increases were struck and what impact Christchurch earthquakes would have on the portfolio, valued at more than $2 billion.
One investor in the business, which has a market capitalisation of $1.3 billion and an accelerating development programme, said he was cash-rich and asked chairman Keith Smith if more capital raising was planned.
Last year, more than $235 million of new equity was issued but Smith said there were no new plans right now.
The only negative question was over printing firm Geon Group's receivership and chief executive John Dakin said the property Goodman rented to Geon was vacant.
But it was well-located, in the middle of East Tamaki's $650 million Highbrook Business Park "so we think it will lease well", Dakin said.
As for earthquake fallout, Goodman planned to spend only $3 million to $5 million on seismic upgrades across its portfolio in the next few years, which Dakin said amounted to little more than maintenance.
"The average age of our assets is 10 years," he said referring to the portfolio which has buildings with around 1 million sq m of floorspace.
"While we remain in a low growth and competitive operating environment, we are more confident about the future, encouraged by increasing occupier demand and recent development activity," Dakin said.
"We are positioned for more growth."
Since 2004, the trust has added 500,000sq m of new floor space to its portfolio and much of that has been at Highbrook where Goodman has started new projects in the past 15 months worth more than $38 million. New properties have been built for Panasonic and Stanley Black & Decker, and Dakin said it was particularly pleasing that demand was coming from existing Highbrook tenants or customers needing more space, including Big Chill, Contract Logistics and Viridian.
The Crossing, Highbrook's new commercial and retail heart, would be finished in a few weeks and would become a focal point for the estate and East Tamaki, he said.
More than 85 per cent of that area has been leased to firms including Wynyard Wood Lawyers, LG Electronics, Waipuna Conference Suites and a Quest Hotel.
Goodman has developed a new 17,150sq m distribution centre for Frucor beverages at the M20 Business Park at Wiri and a new logistics centre for Mainstream at its Savill Link estate in Otahuhu, Dakin said.
The next quarterly distribution payment date is September 26 and units closed steady yesterday at $1.03.
Goodman Property Trust
*48,000sq m new projects planned this year.
*Leased 144,000sq m of new space this year.
*$2b portfolio has 96 per cent occupancy.