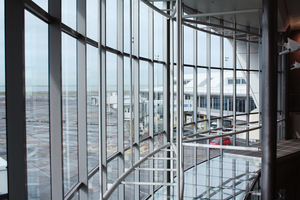 Airlines say charges at Auckland Airport could rake in up to $72 million in excess revenue over the next five years even though the Commerce Commission has given the charging regime a tick.
The commission said the information disclosure regime has had a positive influence on the airport's behaviour and had been effective.
"Auckland Airport targeted returns over the current five-year pricing period which, while above our assessment of a normal return, are not so high as to suggest that the airport would be expected to extract excessive profits," the commission said.
"Auckland Airport has made a number of positive changes to its price setting approach during the short time information disclosure regulation has been in place," said commission deputy chairwoman Sue Begg.
The airport's targeted return of 8 per cent a year for the 2013-17 pricing period is just within the commission's estimate of an acceptable range of returns of 7.1 per cent to 8 per cent.
However, the Board of Airline Representatives (Barnz) said charges were still a threat to travellers. Legal counsel for Barnz, Kristina Cooper, said while Auckland's charges for landing aircraft on the airfield and for passengers passing through the domestic terminal were reasonable, the prices for passengers passing through the international terminal were excessive and generated an excessive profit.
In its report the commission found that Auckland Airport could earn as much as $72.1 million in pre-tax excess revenues over the five-year period from July last year. "This is approximately 6.1 per cent higher than the revenues required to earn a normal return, and is consistent with the scenario where expected excess returns are expected to be $41.4 million."
Barnz says New Zealand has one of the lightest-handed regimes for airport pricing among developed countries.
Air New Zealand said that excess profits gained by high airport charges ultimately cost the passenger more through increased airfares and unnecessarily constrained air travel for the public on all airlines.
Auckland Airport's chief executive Adrian Littlewood said Barnz had made much of the $72.1 million figure but needed to take a wider view.
"I think what Barnz is doing is picking a point and trumpeting that number. I think in this circumstance the Commerce Commission is the best judge and there is no evidence of excessive profits being earned."