Supermarket giant's Auckland arm hails its strong performance in a challenging year.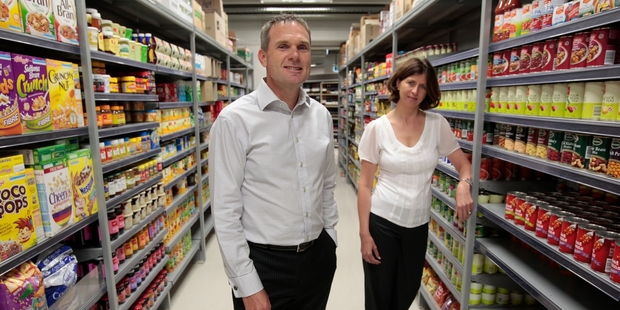 Supermarket giant Foodstuffs Auckland has pushed sales up 5.5 per cent in what it described as a challenging environment.
The corporate entity behind New World, Pak'nSave, Liquorland, Four Square, Gilmours, a fuel business and other trading entities has just issued its annual report for the year to March 3, 2013, which chairman Robert Redwood and managing director Murray Jordan described as a tough time.
"Taking into consideration a 0.1 per cent decrease in food price inflation across the financial year and the challenging general economic environment, this was a very good performance for the 2012/13 year," they said.
Revenue was up from $3.6 billion to $3.8 billion and gross profit rose from $275 million to $286 million, although net after-tax profit fell.
Statistics NZ figures show a $17 billion annual food and grocery spend. Foodstuffs competes against Progressive's Countdown chain.
Foodstuffs' annual report showed owners of the member-model supermarkets also got richer.
"The total distribution to members for the year is $108.8 million. This represents a $1.1 million or 1.1 per cent increase on last year's distribution," the report said.
Foodstuffs was in a strong financial position, with assets of $1.6 billion, up $40.7 million, it reported.
Angela Bull, property development general manager, said a $100 million new store development and refurbishment programme was under way and the annual report referred to that expansion.
"The group continues with its capital expenditure programme of property acquisition and store development which will help fuel future growth in the business. The year was another busy one from a property development perspective, with a number of new stores opening as well as ... store refurbishments," it said.
At the end of February, Foodstuffs co-operative members nationally operated 49 Pak'nSave's, 137 New Worlds, 276 Four Squares, 138 On The Spot convenience stores, 19 Henry's Beer, Wine, and Spirit outlets, three Raeward Fresh newly acquired stores, eight Gilmours stores, four Toops stores, five Trents Cash'n Carry and 44 fuel sites, the annual report said.
Foodstuffs financially backs new members into stores and the Auckland report said this meant a total financing commitment at balance date of $288.6 million, down from last year's $311.1 million.
On February 7, the boards of Foodstuffs Auckland and Foodstuffs Wellington agreed to merge to create Foodstuffs North Island, separate from Foodstuffs South Island.
But insiders predict one national company will eventually emerge and that members will be offered shares, abandoning the existing model which does not drive members to expand into new stores.
Rival Progressive Enterprises operates a corporate model.
New stores opened by Foodstuffs Auckland included Pak'nSave at Silverdale and Four Square Panmure, while Foodstuffs Wellington opened New World Newlands, New World Tawa and Four Square Frimley.
"Foodstuffs Wellington has been testing the initiative Made2Go since August last year. This initiative offers customers the opportunity to order platters, cakes and gifts online. Response has been positive from customers and there are currently 20 New Worlds and two Pak'nSaves in the Wellington region offering the service," the annual report said.
"This year, Foodstuffs Wellington has set up an office in Shanghai, China as part of the Global Buying Office initiative," the report said.
"This office is a valuable extension to the already successful buying groups established within the group and gives Foodstuffs greater access to the growing Asian market.
"The new global office continues to deliver substantial savings on both retail and not-for-sale items."