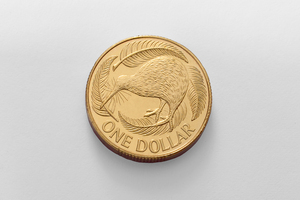 The New Zealand dollar is little changed ahead of a Federal Reserve meeting this week which is expected to signal the outlook for monetary stimulus in the world's largest economy.
The kiwi recently traded at 80.75 US cents, from 80.84 cents at the close of New York trading and 80.79 cents at the 5pm market close in Wellington on Friday. The trade-weighted index weakened to 75.97 from 76.03 on Friday.
Federal Reserve chairman Ben Bernanke is expected to signal when the US central bank plans to start tapering its US$85 billion a month quantitative easing programme following a two-day meeting this week. The monetary stimulus programme has debased the greenback, and increased the lure of currencies such as the New Zealand dollar.
"The market is going to be a bit volatile" ahead of the Fed comments, said Martin Rudings, senior advisor at OM Financial. "What he says about the tapering of QE is going to be very important in how global yields move."
Traders are speculating Bernanke may lower his targeted unemployment rate necessary to trigger interest rate rises to 6 per cent from 6.5 per cent, Rudings said.
"If he does pull that down to six, then it is going to take longer to achieve it which means rates will stay at these low levels for longer," Rudings said.
Rudings expects the Fed to start pulling back on its monetary stimulus in September.
The kiwi will probably trade between 79.50 US cents and 81.25 cents ahead of the meeting, he said.
The New Zealand dollar has strengthened since the Reserve Bank of New Zealand meeting last week said the removal of monetary stimulus would likely be needed in the future because of inflation pressures from a construction and housing boom.
Traders have priced in 61 basis points of hikes by the nation's central bank over the next 12 months, according to the Overnight Index Swap Curve.
"We are pricing in quite a lot next year and that is what is supporting the kiwi," said OM Financial's Rudings. "I think the market has got quite a lot ahead of itself in New Zealand interest rate expectations. I think we will have a bit of a pullback in those yields which may let the currency come off a wee bit."
The local currency weakened to 60.77 euro cents from 60.84 cents on Friday and dipped to 79.14 yen from 79.88 yen on Friday. The kiwi was unchanged at 87.21 Australian cents and 52.49 British pence.