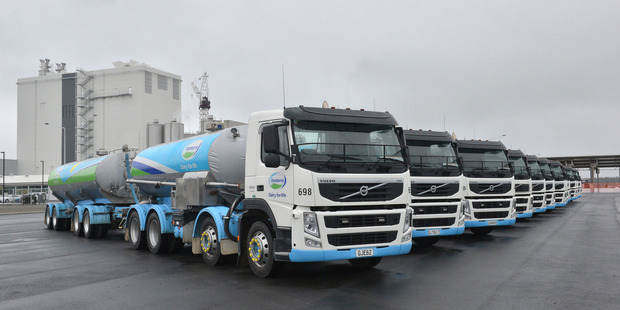 The combination of a weaker New Zealand dollar and persistently strong global prices has prompted Westpac to upgrade its Fonterra milk price forecast to $7.40 per kg of milk solids for the 2013/14 season, up 90c from the bank's previous forecast.
The bank also expects Fonterra to raise its own milk price forecast, which currently sits at $7.00 per kg, following its board meeting on Tuesday.
"Fonterra may even go north of our $7.40 per kg forecast," Westpac economist Nathan Penny said in a commentary.
Fonterra may also update its production outlook, he said.
"We predict a rebound in production from drought of around 5 per cent on last year's level, while Fonterra has previously signalled production growth of 2 per cent," Penny said.
The bank reiterated its view that it was shaping up as a bumper dairy season.
"World prices remain very high, while growing conditions have been generally very good since the drought broke,'' he said. "The icing on the cake is a lower currency."
World dairy prices have stayed at very high levels. "To be frank, we are surprised by that," Perry said. "This time three months ago, we expected world prices would be around 7 per cent lower by the end of July," he said.
Fonterra said on Thursday that its earnings for 2012/13 would fall 7.3 per cent short of the prospectus forecast contained in the Fonterra shareholders fund unit offer last year, due in part to higher milk prices.
The co-operative said the combined impact of the drought and the "reshaping" of its Australian business meant its forecast for normalised earnings before interest and tax was likely to be around $1 billion compared with a prospectus forecast of $1.08 billion.