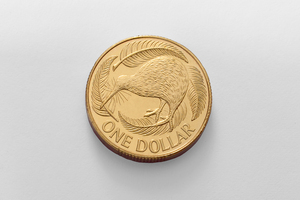 The New Zealand dollar is little changed ahead of merchandise trade data today and the central bank's review of the official cash rate tomorrow.
The kiwi recently traded at 79.98 US cents, from 79.96 cents at the 5pm market close in Wellington yesterday. The trade-weighted index weakened to 75.36 from 75.43 yesterday.
The Reserve Bank is expected to keep the benchmark interest rate at a record low 2.5 per cent tomorrow, and repeat that the local currency is still overvalued and the overheated housing market remains a concern.
"The RBNZ tomorrow should keep anybody from getting too excited about kiwi in terms of huge moves," said Sam Tuck, senior manager FX at ANZ New Zealand. "We don't really expect anything but nobody really ever wants to put a big position or make a big call ahead of something like that which has the potential, even though it's minor, to change things."
The Reserve Bank is less likely to make major announcements at the six weekly OCR, instead favouring its quarterly MPS reviews, Tuck said.
A report from Statistics New Zealand at 10:45am is expected to show the nation posted a monthly trade deficit of $100 million in June for an annual shortfall of $1.26 billion.
Traders today will be eyeing a report on Australian inflation at 1:30pm local time, which is expected to show consumer prices rose a muted 0.5 per cent in the second quarter. That could potentially drive the kiwi if it was a surprise either way, Tuck said.
The New Zealand dollar weakened to 85.93 Australian cents, from 86.20 cents yesterday.
China's HSBC Flash PMI report on manufacturing will also be closely watched at 1:45pm local time. The local currency may gain should the measure print higher than the expected 48.2 as investors are concerned about a slowdown in China, Tuck said.
Tonight, traders will be monitoring flash PMIs from Europe which are expected to show continued improvement while remaining below the expansion/contraction line of 50, Tuck said.
The kiwi weakened to 60.43 euro cents from 60.56 cents yesterday. The local currency was unchanged at 79.50 yen and at 51.97 British pence.