Telecom and OceanaGold prices rise as faith in US stimulus bolsters market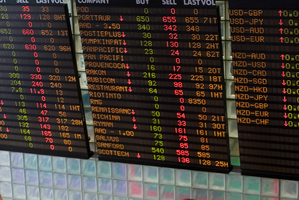 New Zealand shares rose for the seventh straight session amid confidence the Federal Reserve won't rush to end its stimulus programme and as earnings season looms at home. Telecom and OceanaGold rose while Diligent Board Member Services fell.
The NZX 50 gained 8.279 points, or 0.2 per cent, to 4568.333. Within the index, 22 stocks rose and 16 fell. Turnover was $138 million.
"The market's bouncing back from being oversold on the back of a more calming discussion from the Federal Reserve," said Shane Solly, portfolio manager at Mint Asset Management. "Relatively easy settings are in place for a bit longer. The New Zealand market looks quite attractive in that environment - a bit of growth, a bit of yield."
Telecom rose 2 per cent to $2.295. The Government's plan to auction the 4G spectrum in September or October faces delay, with Maori claimants to spectrum rights reactivating a dormant claim to the Waitangi Tribunal.
OceanaGold rose 5.2 per cent to $1.81. Spot gold traded at US$1288.25 an ounce, having climbed back from the lowest in almost three years.
Diligent declined 4.4 per cent to $6.36 after the company said it would delay its second-quarter earnings release after saying it needed to reassess how it booked revenue.
Fletcher Building fell 0.1 per cent to $8.54. Xero fell 3.4 per cent to $16.95 and Ryman Healthcare fell 1.2 per cent to $6.90.
Shares in MightyRiverPower fell 0.9 per cent to $2.34 before the stock exchange announced the state-controlled power company will join the top 50 index on July 22.
Energy Mad sank 5.6 per cent to 34c after it said first-quarter earnings were $120,000, ahead of the $7000 previously expected. Earlier this week the Christchurch-based company said its first-quarter earnings were profitable without giving any details.
Retailers were mixed as economists predicted a tepid pace of inflation in the second quarter. Jewellery chain Michael Hill International fell 2.3 per cent to $1.27 and clothing chains Hallenstein Glasson and Pumpkin Patch dropped 1.6 per cent to $4.86 and 1.2 per cent to 81c respectively.
Warehouse Group rose 0.8 per cent to $3.78.