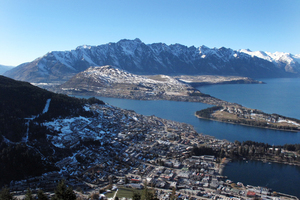 Skyline Enterprises, the Queenstown-based tourism company whose shares trade on the Unlisted platform, said its distributable profit fell 18 per cent in 2013 after it wrote down the value of the Christchurch casino where trading has softened since the earthquakes.
Distributable profit to shareholders was $16.6 million in the year ended March 31, down from $20.3 million in the same period a year earlier. The dividend will increase to 37c a share from 34c last year.
The results are subject to audit. Skyline took an $11.3 million goodwill and amortisation charge in the latest period after acquiring the half stake in Christchurch Casinos that it did not already own from SkyCity in December. That compares with a charge of just $300,000 a year earlier.
Visitor numbers have not yet returned to pre-earthquake levels although the trend is improving, according to chairman Ken Matthews. Construction was expected to start in October on a functions facility within the casino's ground-level parking area.
Shares in Skyline last traded at $8.80, valuing the company at $299.6 million.
The company's Queenstown gondola business experienced "strong trading conditions" throughout the year with gondola numbers at a record high, Matthews said. Revenue rose 15 per cent, driven by dining and luge activity. The company's Rotorua business experienced a similar pattern, he said. Profitability improved as a result of controlling margins, yields and operating expenses.
In its accommodation business, the Mercure Leisure Lodge in Dunedin recorded a small decline in occupancy to 65 per cent while net returns from the Blue Peaks Lodge in Queenstown were lower than in 2012. Vacancy levels remained low in its other commercial properties with some growth in rentals' net returns.
The first full year of trading from Totally Tourism, acquired in September 2011, was in line with projections although some operational challenges continued in a competitive environment.
In the company's overseas luge operations, profit contribution from Sentosa Island in Singapore was in line with the previous year as it competed with other destinations while Mont Tremblant in Canada produced a "sound result" and met expectations with similar visitor numbers to the previous year.
The company's luge at Calgary in Alberta is open after delays and the company is confident it will be a success.