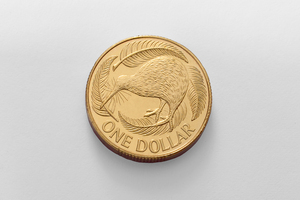 The New Zealand dollar retraced earlier gains against the euro and pound on better economic data from Europe.
The kiwi fell to 60.47 euro cents from 61.43 cents at the 5pm market close in Wellington yesterday and slid to 52.20 British pence from 52.75 pence yesterday. The local currency weakened to 77.95 US cents from 78.51 cents yesterday.
The New Zealand dollar, which had reached a five week high against the euro and pound yesterday, weakened overnight on European optimism after French industrial production didn't come off as much as traders had expected and the European Commission made progress towards a banking union.
"That was just enough to take back the gains the kiwi had made against the euro and sterling and that drove it against the US dollar," said Sam Tuck, senior manager FX at ANZ New Zealand.
The local currency spiked up against the greenback immediately after the Federal Reserve released the minutes of its last meeting overnight, but then fell back as traders realized it provided no new information, said ANZ's Tuck.
Traders are awaiting a speech this morning by Fed chairman Ben Bernanke for indications on when the Fed may start tapering its US$85 billion a month asset purchase programme.
The New Zealand dollar inched up to 85.54 Australian cents from 85.49 cents yesterday and slid to 78.06 yen from 79 yen yesterday. The trade-weighted index slid to 77.95 from 78.51.