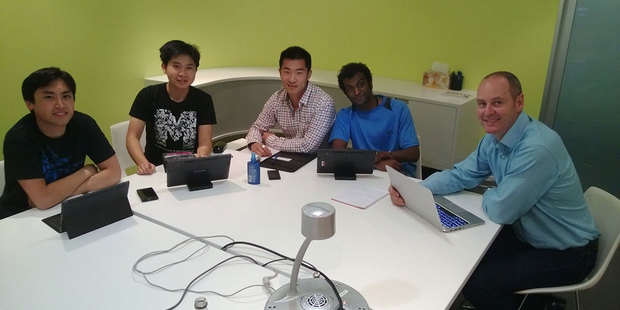 Four of New Zealand's brightest young technologists are in Russia this week hoping to take out a prestigious student competition with their anti-skin cancer smartphone app.
Team InfinityTek - made up of Jacky Zhen, Muthu Chidambaram, Daniel Xu and Ming Cheuk - are flying the flag for New Zealand at this year's Microsoft Imagine Cup in Saint Petersburg.
The group has developed a small sensor device which can be fitted to a hat or wristwatch to measure the strength of harmful UV rays on any given day.
UVSense factors in the user's skin and sunscreen type, then calculates how long the person can stay out in the sun for without getting burnt. This information is sent wirelessly to the user's smartphone.
InfinityTek earned their spot at the world event - which features 309 students from 71 countries - after winning the national Imagine Cup title earlier this year.
Team leader Daniel Xu, who is studying for a PhD in bio-engineering, said the four Auckland friends had spent an "insane" number of hours refining their project in the lead-up to Russia.
He was confident the team had built a solid enough product and presentation to get a podium finish.
"If we do everything we've planned then we'll win - I've got no doubt in my mind. We've put so much time and effort into this," Xu said,
UVSense removed the guesswork involved in knowing how long someone could safely spend doing the gardening, playing golf or swimming, he said.
"Normally when a person walks in to the sun they have no idea how much time they can be out there or when they're likely to get sunburnt."
When UVSense detects the user is in danger of getting burnt, it sends a notification alarm telling them to seek shade or apply more sunscreen.
Xu said he believed there was a genuine need in the market for their product.
"We've had a lot of strong interest from people in the industry. There's so much interest that, regardless of the competition, we're planning to launch this."
The team had already been approached by a "major" sunscreen manufacturer, he said.
New Zealand has a strong track-record at Imagine Cup, with Kiwi teams placing in the top six for the past three years.
Looking to continue that trend, InfinityTek has received specialist coaching from staff at Microsoft NZ and from Richard McLean, founder of Concept to Market .
McLean said the group had gained key skills needed to bring a product to market, such as knowing how to develop a strong business plan and sales pitch.
"Learning how to stand up and represent your idea confidently and concisely is a great skill to have.
"I think when they get back (from Russia) they should consider a commercial entity of some sort to capture their ideas and allow them to harvest the commercial potential of what they're doing."
InfinityTek will present UVSense to fellow competitors and judges today, with final winners set to be announced at an awards ceremony on Thursday night.
First-place prizes of US$50,000 will be handed out in each of three categories - World Citizenship, Games and Innovation - and total prize money amounts to more than $1 million.
The Imagine Cup is now in its 11th year and more than 1.65 million students from 190 countries have participated in the event over the past decade.