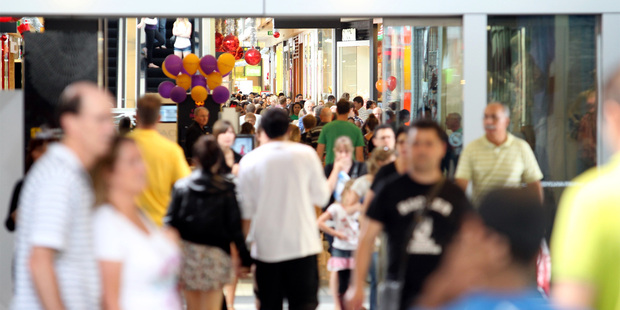 Business confidence held at a three-year high in the second quarter as domestic trading activity eased, according to the latest Quarterly Survey of Business Opinion from the New Zealand Institute of Economic Research.
A net 31 per cent of businesses remained optimistic in June, seasonally adjusted, unchanged from the March quarter, the institute said. Last quarter was the highest since March 2010 when a net 33 per cent were optimistic.
Domestic trading activity, which is closely aligned with economic growth, eased in the latest quarter with a net 4 per cent of firms experiencing a pickup in their own activity, down from a net 10 per cent three months earlier, the institute said. That reading is consistent with more than 2 per cent annual economic growth in the June quarter, the institute said.
"The economy is settling into a growth pattern," said institute chief executive Jean-Pierre de Raad. "Businesses continue to be optimistic, similar to last quarter. They are acting on that optimism with investment and hiring which had been the missing ingredient in the recovery that we are seeing right across the regions."
A net 9 per cent of firms expect to hire more workers in the next quarter, up from a net 5 per cent last quarter. A net 4 per cent of firms expect to invest more in buildings, up from 3 per cent last quarter, while a net 10 per cent plan to invest more in plant and machinery, up from 8 per cent the previous quarter.
The economic recovery is uneven across regions, with a surge in Canterbury, gradual growth in Auckland and contraction in Wellington, the institute said. In the North Island, the drought negatively affected the Waikato and Bay of Plenty regions.
Costs and prices ticked up in the June quarter but remain at historically modest levels, the institute said. Much of the costs and price pressures are concentrated in Canterbury and are low elsewhere, the institute said.
For 27 per cent of Canterbury firms, capacity is a constraint to growth, the institute said. That compares with 10 per cent of firms in the rest of New Zealand, up from 6 per cent last quarter, the institute said.
Activity is growing strongly for manufacturing and building, largely driven by Canterbury, the institute said. Service sales are growing gradually while financial services sales slowed in line with lower mortgage approvals in recent months. Growth in retail sales also slowed.
ASB Bank economist Daniel Smith said the survey results suggested it would be "another modest quarter for growth".
"A stark contrast is emerging between Canterbury and the rest of the country," said Smith. "Activity in Canterbury is expanding at a rapid pace, and capacity and cost pressures are starting to emerge. The rest of the country, though, seems to retain a fair amount of slack in the economy."
"From an inflation perspective, cost pressures remain subdued on a nationwide basis. So far, pressures emerging in Canterbury have not spilled over to the rest of the country, but the Reserve Bank will be no doubt be keeping an eye on developments. Before long, it is likely that Canterbury will start to soak up more of the spare capacity in the national economy, which may generate more widespread domestic inflation pressure. We continue to expect the OCR to remain on hold until March 2014," said Smith.
Westpac Bank senior economist Michael Gordon said at face value the survey suggested solid GDP growth for the June quarter.
But with the drought likely to have a sizeable impact on output, he suspected that Q2 growth would be somewhat closer to the 0.3 per cent pace in Q1.
"That aside, the survey is consistent with our view that the New Zealand economy has entered a self-sustaining expansion, with indicators of underlying growth strengthening and becoming more broad-based in the last few quarters. There are some signs of inflation pressures emerging, but from a very subdued starting point," said Gordon.