NZX 50 enjoys highest close since late May, with Contact Energy leading gainers on the index with a 2.5% rise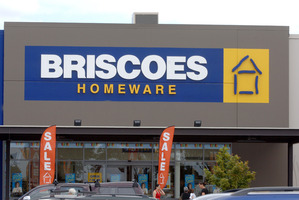 Briscoe Group was among a number of retailers to gain ground on the sharemarket yesterday. Photo / NZPA
New Zealand shares rose yesterday, pushing the NZX 50 Index to the highest close since late May, as Ryman Healthcare resumed its gains to a new record and Xero continued to draw investors betting on its global expansion plans.
The NZX 50 rose 3.433 points, or 0.1 per cent, to 4493.297. Within the index, 27 stocks rose, 18 fell and five were unchanged. Turnover was a lower-than-average $75 million.
Ryman, the retirement village operator that had dropped from its previous highs of May as some investors sold to pocket gains, advanced 1.5 per cent to a new high close of $6.74. Rival Summerset Group rose 2.1 per cent to $2.88 after saying it sold 23 per cent more occupation rights in the second quarter than a year ago.
"Ryman is back in favour again after a period of profit taking and consolidation," said Grant Williamson at Hamilton Hindin Greene. Summerset "continues to show very good growth in their figures".
Metlifecare, the third listed retirement village operator, rose 1.6 per cent to $3.25 after saying its share purchase plan to raise $10 million was oversubscribed at $11.95 million and would be scaled back.
Xero, the cloud-based accounting company and the highest-priced local stock, rose 2.5 per cent to a record close of $18.79, for a market value of $2.2 billion. The shares are up 147 per cent this year.
"There's been huge hype building into that share price," Williamson said. "Analysts have been crunching the numbers and it is a pretty exciting end result if it all goes to plan. Investors are counting on Xero increasing that customer base significantly."
Contact Energy, the biggest utility on the NZX 50, rose 2.5 per cent to $5.40, leading gainers on the index. Infratil advanced about 2 per cent to $2.32.
Warehouse Group led gains among some retailers, rising 1.9 per cent to $3.78. Michael Hill International gained 1.5 per cent to $1.33, Pumpkin Patch rose 1.2 per cent to 82c and Kathmandu gained 0.8 per cent to $2.50. Briscoe Group rose 0.8 per cent to $2.45.
Hallenstein Glasson Holdings dropped 0.8 per cent to $5 and Restaurant Brands New Zealand fell 0.4 per cent to $2.84.
With retailers, investors were looking at them "on a case-by-case basis", Williamson said. "Retailing is still relatively flat out there."
Property investors were mixed. Property for Industry gained 1.1 per cent to $1.38 while Precinct Properties New Zealand declined 0.5 per cent to $1.015, Kiwi Income Property Trust fell 0.5 per cent to $1.105 and Goodman Property Trust dropped 0.5 per cent to $1.025.
Fletcher Building fell 2.2 per cent to $8.43 and Telecom rose 0.7 per cent to $2.28. Chorus rose 0.8 per cent to $2.65.