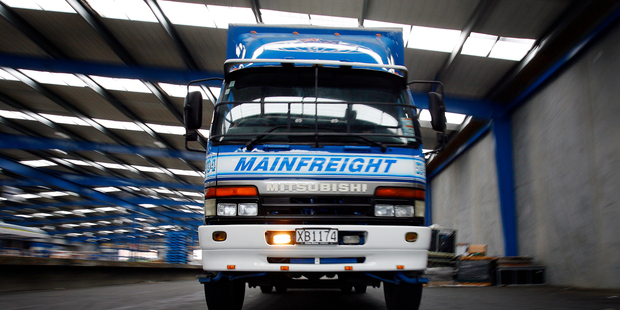 Mainfreight says it has not begun legal proceedings against the former owners of a European firm it purchased in 2011, despite a newly published book on the history of the logistics firm clearly stating that court action seeking $18m in damages has commenced.
In a statement to the NZX this morning the company said a Herald story wrongly stated that Mainfreight had begun court proceedings against the former owners of the Wim Bosman Group, the Netherlands-based transport operator it acquired in for 110 million euros, over alleged non-disclosure of the impending loss of a major customer during the sale process.
However, Ready Fire Aim, the soon-to-be-released official history of the New Zealand logistics firm by Keith Davies, says: "Mainfreight reacted, [to the alleged non-disclosure] and at the time of writing had commenced court action seeking 11.2 million euro ($NZ18m) in damages."
Mainfreight chief financial officer Tim Williams said the book, which was published by Random House and will be available for sale from August 16, was not correct.
"The correct position is that Mainfreight has notified the previous owner that it intends to bring a claim," Williams said. "Any claim must be made through arbitration. Mainfreight has not commenced arbitration proceedings. If it does commence arbitration proceedings it will make an announcement at the time."
The New Zealand Herald made contact with Mainfreight yesterday to confirm details in Ready Fire Aim.
The book says the company was aware, while conducting due diligence on the purchase, that Wim Bosman was set to lose three customers - Samsung, Sara Lee and European games and toy giant Ravensburger.
But Mainfreight did not become aware of the loss of a fourth customer, Giant Bikes, until after it took control of Wim Bosman on April 1, 2011, according to the book.
In its statement today the company says the Herald wrongly suggested that Mainfreight did not disclose the Giant loss.
The company points out that managing director Don Braid told shareholders at the firm's 2012 annual meeting: "Unfortunately, while two of the three account losses were known during due diligence, the third and largest came as a surprise."
The loss of European customers are covered in other company releases, including the 2012 annual report, but Mainfreight does not appear to have disclosed to the market the allegations it makes in Ready Fire Aim about Wim Bosmon knowingly withholding information about the impending loss of the Giant account, or the legal challenge it intends to mount against the former owners.