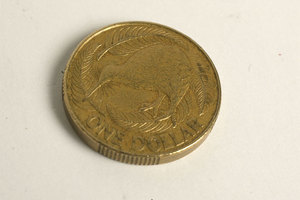 The New Zealand dollar fell to a week low as the Federal Reserve signalled an end to its quantitative easing programme which has debased the greenback.
The kiwi slid to 78.49 US cents, the lowest since June 12. The local currency recently bought 78.86 US cents, down from 79.88 at 5pm in Wellington yesterday. The trade-weighted index weakened to 73.90 from 74.12 yesterday.
Fed chairman Ben Bernanke said the central bank may reduce its US$85 billion a month bond buying programme this year and end it next year should the world's largest economy continue to improve. The US dollar index, which measures the greenback against six of its peers, jumped to a nine-day high as investors bet on more attractive growth and investment opportunities in the US.
"The New Zealand dollar has been strong against US dollar weakness," said Sam Tuck, senior manager FX at ANZ New Zealand. "People are now reallocating money back into the US dollar so the relative gap has closed."
The Federal Open Market Committee said at the conclusion of a two-day meeting in Washington that risks to the US economy have decreased, as they lowered forecasts for unemployment and inflation this year.
Fed officials forecast the US unemployment rate will fall to 6.5 per cent to 6.8 per cent by the end of 2014, possibly reaching its stated threshold to raise the benchmark lending rate.
Still, the New Zealand economy is "looking pretty good", ANZ's Tuck said.
Prices of dairy products rose in Fonterra Cooperative Group's latest GlobalDairyTrade auction this week, snapping three straight declines as prices rose for skim and whole milk powder, and underpinning support for the kiwi ahead of today's GDP result.
Data today is expected to show New Zealand's economy grew 0.6 per cent in the three months ended March 31, according to a Reuters survey of economists.
The local currency edged up to 84.84 Australian cents, having earlier touched a four-year high 85.03 cents, from 84.16 cents at 5pm in Wellington. The kiwi was little changed at 76.08 yen from 76.09 yen yesterday.
The New Zealand dollar slid to 59.50 euro cents from 59.65 cents yesterday and weakened to 50.99 British pence from 51.09 pence. That reflects investors betting that global economic risk is decreasing, prompting them to consolidate their investments, said ANZ's Tuck.