Commerce Commission says air cargo cartel fines should be a deterrent to breaking the rules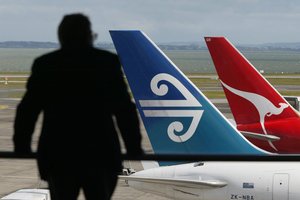 The Commerce Commission says the penalties imposed on Air New Zealand and other airlines in the air cargo cartel case should be a deterrent to breaking price-fixing rules.
Air New Zealand - which still faces action across the Tasman - is the last airline to pay a penalty here in the long-running case after the High Court approved a $7.5 million fine and more than $500,000 in costs.
Total penalties of $42.5 million have been paid by Air NZ, British Airways, Cargolux, Cathay Pacific, Emirates, Korean Air, MASKargo, Qantas, Japan Airlines, Singapore Airlines Cargo and Thai Airways.
Commerce Commission chairman Mark Berry said he was very pleased to have resolved this significant case in its entirety.
"Price-fixing is unlawful and the penalties imposed in the air cargo case should be a deterrent to others who might breach the Commerce Act.
"The penalties are also a reminder to companies that it is important to have effective compliance programmes in place to prevent anti-competitive behaviour,"he said.
Air New Zealand was among the 13 airlines the commission filed proceedings against in December 2008, alleging they had colluded to impose fuel and security surcharges for air cargo shipments to and from New Zealand.
In April 2011 the commission discontinued its action against PT Garuda Indonesia, United Airlines Inc and six Air New Zealand executives and the following year it discontinued its proceedings against two Qantas executives.
High Court judge Geoffrey Venning said the offending was at the serious end of the scale and consumers were harmed.
Air New Zealand admitted liability for understandings relating to fuel and security surcharges in Japan and Malaysia for cargo flown inbound to New Zealand. Air New Zealand did not contest allegations concerning fuel surcharges in Australia for nine months in 2000 for cargo flown inbound to New Zealand.
From January 2000 to February 2006 Air New Zealand carried just under 407,000 tonnes of freight into and out of New Zealand, earning freight revenue of approximately $1 billion, the judge said.
The airline, which has previously described price-fixing as "insidious", emphasises that the penalties did not relate to any cargo flown from New Zealand.
Justice Venning said Air New Zealand considered there was no commercial gain because freight forwarders and importers did not necessarily pay higher prices for air cargo services from Malaysia and Japan to New Zealand than they would have, given that the price of fuel and security costs increased considerably.
The penalty, which was recommended to the court by the commission and Air New Zealand as part of a pre-trial settlement, included a 20 per cent discount for Air New Zealand's admissions, its clean record and reflected the airline's high volume of cargo business in New Zealand.
The penalty also recognised that the surcharges in Japan were approved by the local regulator and agreed on with local regulators in Malaysia.
The court noted that Air New Zealand's conduct was not as culpable as that of some of the other airlines pursued by the commission and Air New Zealand had not been a participant in a cartel on a global basis.
Air New Zealand also agreed to pay $300,000 towards the Commerce Commission's investigation costs and court costs of $259,000.
Air New Zealand still faces action by the Australian Competition and Consumer Commission, which it is defending.
In its interim report in February, Air New Zealand said it had been named in four class actions overseas.
One was taken by Australian law firm Maurice Blackburn against Air New Zealand and other airlines in 2007. The firm has said it represented about 200 shippers and was seeking a hearing date in Australia's Federal Court.
The class action includes Qantas, Lufthansa Cargo, Singapore Airlines, Cathay Pacific, Air New Zealand and British Airways. A principal, Brooke Dellavedova, said settlement with the Commerce Commission was "further confirmation that airlines acted illegally and the businesses affected want their money back".