We're already happy to hire a hubby. Hire a wife has to be the next growth market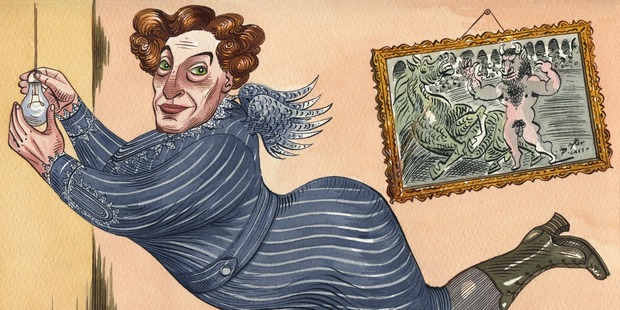 According to a survey run last year, 73 per cent of people believe that DIY is part of the Kiwi man's DNA.
Take a visit to any Hammer Hardware or Mitre 10 on a weekend and you're sure to confirm it. You'll find all manner of men making growling noises in the direction of hammers, chainsaws and gaffer tape. Young boys will often be taken along to observe how a real Kiwi Dad spends his weekend. A manly purchase, a sausage from the sizzle, then home to get that domestic toil under way - that's about the measure of New Zealand on Saturday afternoon if you're kicking it old-school.
I know this because generally, if it's a trip to buy DIY supplies, I am the one doing the buying. In so many ways, but particularly in the realm of DIY, my husband bucks the native stereotype. He will throw his toys out of the cot at the slightest mention of household repairs. He can spend his whole afternoon going up and down a hydroslide with hordes of excitable young children, but will feign thumb sprain or a neck spasm at the very thought of filling a crack in the wall.
We could make it romantic and do it together, I guess, although that would mean leaving three children unattended while we bickered over the right kind of paint stripper or screwdriver.
And don't get me started on flat-pack furniture. I find it hard to believe we're the only couple who'd be able to cite Freedom Furniture as a respondent on any eventual petition for divorce.
The point is, though, that where my husband is different from others is that he is quite comfortable to have the personnel from Hire A Hubby in our house, fixing, counselling and otherwise making things better in a manly fashion.
The franchise itself tells tales of men avoiding their homes when their wives call in the hubbies, fearing the inevitable emasculation it portends.
Not my man. He's part of the modern, metrosexual trend that is seeing franchises like Hire A Hubby boom.
My "Hubby", who was called in for a list of urgent repairs last week, had brought with him an apprentice Hubby, such was the call on his services. He could barely fit me in. As the daughter of a man who could keep any household appliance going on rubber bands and toothpicks, I felt ashamed at getting the Hired Hubby in for such ridiculous things as affixing cupboard door handles, imagining my father's look of horror as we forked out a sizeable sum for something he could probably have done when he was 9. And yet, in our house, at this time, it is the only way anything is going to get done - by either uninterested husband or incompetent wife.
I am now waiting for someone enterprising to fire up a brand new franchise, Hire A Wife. No, not some kind of upmarket escort agency or mail-order bride service, but a bureau for (mainly) women who want to hire other women to job-share the household tasks.
Yes, you can hire a cleaner, a nanny and a cook if you want to, and can afford the price; I'm talking more about a modern version of Mrs Hughes from Downton Abbey, a firm but kindly woman with whom to share the running of the household.
I'm sure this will come to pass; as we've already seen with Hire A Hubby, every First World problem eventually finds its First World solution.