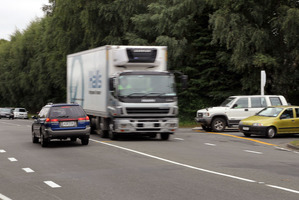 After a sluggish start to the year, ANZ's Truckometer is pointing to a period of above-trend growth over the second half of 2013.
The heavy traffic index, which tracks flows of heavier vehicles on 11 roads chosen for a close historical fit to economic activity at the time, climbed 4.7 per cent last month on top of a 3.8 per cent rise in April.
"The index tends to seesaw, so to have two strong increases in a row is quite notable," said ANZ economist Sharon Zollner, who designed the index.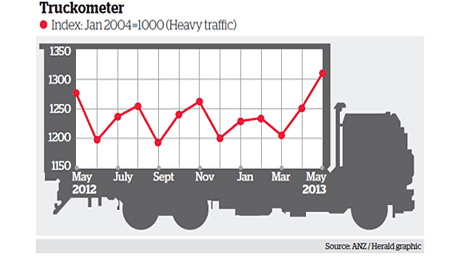 Taking the heavy traffic index more literally than Zollner would recommend indicates the March quarter was weak but the June quarter is very strong.
The official score, as represented by gross domestic product outcomes, may record the weakness associated with the drought less neatly than that; Zollner reads the index as indicating increasing momentum over the first half of the year.
And the companion light traffic index, which monitors movements of cars and vans, and gives a pointer to growth six month ahead, is predicting a marked lift in economic momentum from mid-year, she said.
"The question marks have moved from whether there will be growth, to how sustainable it is likely to prove in the medium to long-term," she said.
The combination of the mix of monetary conditions - low interest rates, high New Zealand dollar and the Canterbury rebuild - was encouraging domestic-focused growth at a time when the economy still needed to repair the damage done from over-borrowing last decade.