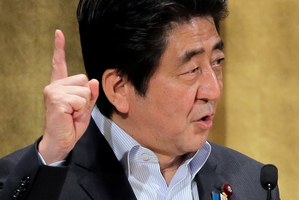 Japan's economy grew more than the Government initially estimated in the first quarter, helping Prime Minister Shinzo Abe to sustain confidence in his campaign to defeat deflation.
Gross domestic product expanded an annualised 4.1 per cent, compared with a preliminary calculation of 3.5 per cent, the Cabinet Office said.
The current-account surplus for April was 750 billion ($9.7 billion), the Finance Ministry said - more than double the 350 billion median estimate of analysts.
Abe and Bank of Japan Governor Haruhiko Kuroda need to sustain confidence after a slide in stocks from this year's May 22 peak and a rebound in the yen from a four-year low against the dollar.
While BOJ policy makers were to meet yesterday and today, they may have limited room to move after Kuroda said he would avoid "incremental" steps after unleashing unprecedented easing in April.