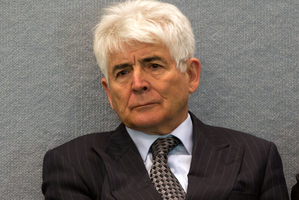 Disgraced lawyer Barry Hart has lost his bid to take his fight against the decision to strike him off to the Court of Appeal.
Hart's 46-year career in criminal law came to an end after he was struck off for over-charging a vulnerable family by $20,000 last year.
He failed to turn up to his own Lawyers and Conveyancers Disciplinary Tribunal disciplinary hearing after seeking an adjournment and sending in medical certificates to say he was too unwell to attend.
But the hearing went ahead with the tribunal finding Hart guilty of three misconduct charges, including overcharging.
Now the High Court at Auckland has rejected his application to take his case to the Court of Appeal after finding the appeal had no merit.
Hart had argued the tribunal had no authority to hear his case without him being present because he did not know it would go ahead.
But Justice Graham Lang ruled Hart was on notice that his case would go ahead after being told by the tribunal on previous occasions that it would.
He also said Hart was in Auckland and presumably in contact with his lawyer who had tried to adjourn the hearing.
"Once his counsel advised him that the tribunal had refused the application, Mr Hart could have attended the hearing and conducted his defence himself."
Hart - whose clients included samurai sword killer Antonie Dixon - can still appeal to the Supreme Court.
Justice Lang's decision comes on the back of another High Court ruling by him and Chief High Court Judge Justice Helen Winkelmann in February.
The court heard Hart charged $1000 an hour while he waited for seven hours in North Shore District Court for his client's matter to be called. The appearance took a few minutes.
The bill for several appearances came to $35,000.
"The tasks undertaken by Mr Hart for Mr A could and should have been achieved at a far lower cost to the family. Mr Hart seems to have made little or no attempt to manage the cost of the work done," the judges said.
It found that Hart's fees were "far too high" and further criticised Hart for his lack of communication skills.
Hart has been ordered to repay the family $20,000.
The High Court judges found Hart's attitude to his client's vulnerable family had been "exploitative and showed a lack of integrity".
They also noted that it was not the first time Hart had overcharged clients.
He has also lost his multimillion-dollar properties northwest of Auckland after owing $30 million to the ANZ National Bank.
Associate Judge David Abbott last year ordered Hart to vacate the last property so it could be sold by the bank, and said Hart was liable for more than $20.5 million outstanding on his bank loan.
His companies Woodhill Stud and Woodhill Holdings were also liable for loans worth almost $16.2 million which must be repaid at a rate of 5 per cent interest per annum.
It has also been revealed that Hart's fleet of luxury cars - including an Aston Martin and 2011 Ferrari California - have been put up for auction.
- APNZ