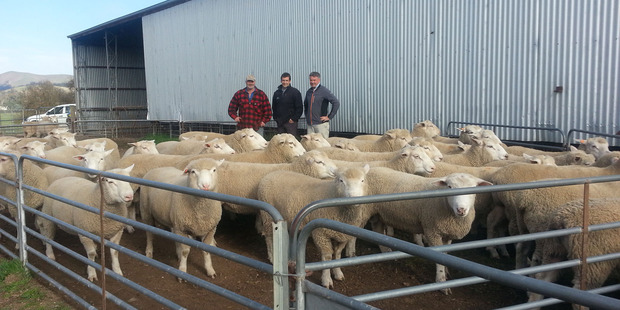 A New Zealand red meat genetics company has sent two air shipments of live rams and more than 1000 embryos to Australia this year to meet growing demand for Kiwi sheep.
Hawkes Bay-based Focus Genetics - which carries out research and development into producing superior sheep, cattle and deer - flew 34 live rams across the Tasman in March and another 103 last month.
Animal breeding specialist Daniel Absolom said demand for high-quality New Zealand rams in Australia had grown quickly in the past year.
The company, which also sent sheep last year, had a long term plan to establish New Zealand sheep genetics in the Australian market, he said.
"New Zealand is fifteen years ahead of Australia in research and development. Focus Genetics went through the trial and error process years ago. Now its sheep breeds are tried and true and producing top results."
Focus has partnered with Victoria-based genetics company Paringa Livestock, which supplies bulls and rams for the country's beef and lamb producers.
All rams sent to Paringa are Primera and Highlander breeds and the animals travel in the hold of normal scheduled passenger flights in crates capable of fitting about 33 -35 ram lambs or 55-60 full-grown rams.
During the flight, rams were fed water, grain and hay and strict animal welfare protocols had to be followed, Absolom said.
Sending animals by air was a quicker method of travel than by sea, making it cheaper and less taxing on the sheep, he said.
Paringa livestock director Tom Lawson said demand for quality New Zealand sheep was growing because their lambs had better survival rates in extreme drought conditions.
"This year we have seen one of the worst droughts on record in Australia. During tough times farmers want top genetics. They don't want to take any risks."
The results from the Primera and Highlander sheep over the past two years had been "phenomenal", Lawson said.
"Although we are still in the early stages we are seeing proven results, so there has been a big rush from farmers to buy more."
Focus recently exported about 1300 embryos as part of a plan to meet future demand without having to keep sending live animals.
Absolom said sending embryos was a more cost-effective way to build a domestic supply.
"The live rams are a means to an end. We're effectively setting up the 'manufacturing plant' in Australia but to do that, we first need to send the product in its finished state."
Focus has partnered with local producer Murnong Farming on a two-year embryo programme which will see more than 2000 embryos implanted for the supply of rams born and raised in Australia.
New Zealand's live sheep exports for breeding are small in number but have been increasing to the UK and Australia.
Statistics New Zealand data shows exports across the Tasman have grown from 49 in 2010, to 121 in 2011, to 350 last year. In the same time period, exports to the UK increased from 22, to 31, to 37.
Each sheep typically fetches a price of about $1300-$1400.
New Zealand has sent few live animal exports for slaughter since 2003, after 4000 sheep died while being shipped to Saudi Arabia.
The exporting of live animals from New Zealand has in the past met with strong opposition from the Green Party and animal welfare groups, who label the practice cruel and one which should be banned.