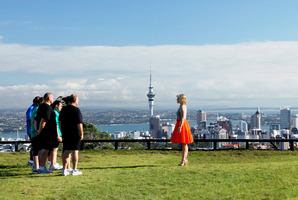 Tourism New Zealand hopes Australian show The Biggest Loser will be a big winner in attracting visitors from this country's biggest inbound market.
The reality show has been filming in New Zealand, with three one-hour primetime episodes featuring this country on the Ten Network last week.
Eight contestants headed to Queenstown for "Fears Week", the final week of the show, where contestants reflect on their efforts to shed weight.
The total viewership for the three episodes was over 1.8 million. In addition, the episodes will feature online at www.thebiggestloser.com .au, with Destination New Zealand highlights being shared across The Biggest Loser's social media chan-nels.
New Zealand is the only international country featured in The Biggest Loser 2013.
Filming, secured through Tourism NZ's International Media Programme, took place in March.
Tourism NZ's general manager Australia Tim Burgess said support for reality TV shows helped the organisation "gain compelling, high-profile media coverage to inspire and excite our target market".
Almost 1.2 million Australians visited New Zealand in the past year.