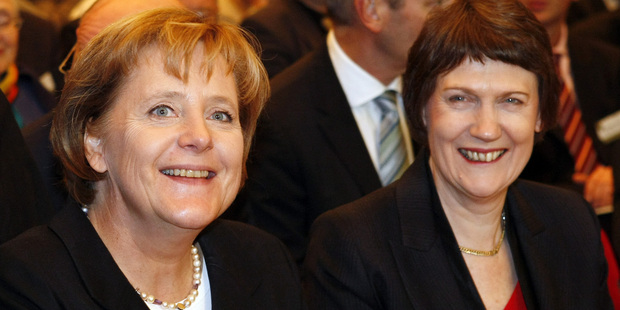 CLARK-POWER
Our own Helen Clark has made another appearance on a most powerful women list, rubbing shoulders with German Chancellor Angela Merkel, former US Secretary of State and presidential hopeful Hillary Clinton and CNN's chief international correspondent, Christiane Amanpour. The "20 Women Changing the World" list was compiled by the School of International Service at American University in Washington, DC.
The list cites the 63-year-old former Prime Minister's political success in New Zealand and her current work heading the United Nations Development Programme, addressing issues ranging from food crises in Africa to environmental sustainability.
EASIER CRUNCHING
Many small- and medium-sized businesses will be relieved that the Financial Reporting Bill has made it through the select committee process intact. The Government has kept the proposal to remove the requirement for smaller companies to produce complicated financial statements, allowing shareholders of such businesses to decide whether they must prepare financial statements.
The proposed law will also make life easier for small not-for-profit entities by moving from $40,000 to $125,000 the earnings level at which they must prepare financial statements on an accrual, rather than cash basis.
SECRET SELL-OFF
The planned sale of Meridian Energy shares is big news, but don't go telling any foreigners about it. Why not? Because on Budget day, government announcements on the partial privatisation carried this sobering warning: "The contents of this announcement are not permitted to be made available to persons in any country other than New Zealand". It isn't clear what the penalty is for anyone rash enough to pass this information on to an alien power, or how the Government would find out. Could this be the real reason its spy agency needs greater powers?
ALL ON TRACK
A study by officials has found the good relationship between transport officials in Wellington and those at Auckland Transport appears to be due to three factors - the partial separation of Auckland Transport from local politics, the unifying of transport issues under one agency and the strength of the two senior management teams and their willingness to work together. Seems a shame that politicians have to get involved and spoil things.
HAPPY LANDINGS
Buried in the Budget small print is the revelation that Ministry of Transport officials are looking at the "proposed divestment of the six regional airports where the Crown has a joint venture partnership interest". This will come as a surprise to many involved, as there has been no announcement that anyone seems to have noticed. Budget documents don't detail what is planned, but the holdings range from tiny to substantial. For some reason the Government has a 2.82 per cent shareholding in Invercargill Airport. It also holds 50 per cent of Dunedin and Hawkes Bay airports, and 25 per cent of Christchurch International Airport, the sale of which could produce cash for the Canterbury rebuild. But National governments have had mixed success with airport sales. In 1998, the government sold its 51.6 per cent stake in Auckland International Airport in a public float. A few months later, Winston Peters got into a dispute over the privatisation of Wellington International Airport and brought the NZ First/National coalition to an end.
THINKING, THINKING ...
Last week's Budget inspired the usual deluge of press releases, pro and anti, many fired out so quickly they must have been prepared well ahead of time. Not so the Manufacturers and Exporters Association, which apparently wanted time to come up with a more considered response. The MEA's media release finally arrived on Tuesday, five days after Bill English's big moment, and long after the Budget had faded from the news cycle. For the record, the association opined that it was a "business as usual" budget that didn't tackle the big issues - a conclusion which hardly seems worth the wait.
BREAKING NEWS
If you want to be first with the news, here's the Labour Party's latest offer, posted on Facebook this week by leader David Shearer: "This Sunday Labour will be announcing its candidate for the Ikaroa-Rawhiti by-election. I want you to be the first to know who it is. Sign up today on our by-election webpage and I will send you an email announcing who it is on Sunday afternoon." Who could resist?