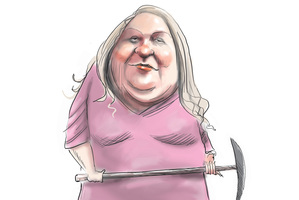 Gina Rinehart It takes a special kind of wealth to lose more than A$7 billion in a year and still top a list of the nation's richest people.
Mining magnate Gina Rinehart has topped the BRW rich list for the third year in a row, with an estimated wealth of A$22.02 billion ($26.4 billion).
However, the richest Australian of all time also lost more money than anyone else on the magazine's list, giving up a quarter of her estimated wealth from last year of A$29.17 billion.
That means she lost more than A$19 million every day in the past 12 months, or A$408,000 every 30 minutes.
But Rinehart has still more than doubled her wealth from when she became the first Australian to pass the A$10 billion mark in 2011.
The reason for her diminishing fortune is the fall in commodity prices associated with worries about China's growth.
That has hit all of the country's mining magnates. The most notable casualty on this year's list is former billionaire, coal magnate Nathan Tinkler. While his Whitehaven Coal stake is still worth about A$400 million, a long list of debts and creditors seeking to freeze his assets push him below the A$235 million cutoff.
BRW said the five biggest falls on this year's list were by mining industry figures, dragging down the value of the whole list.
Total wealth of the Rich 200 is down A$4.4 billion to A$176.8 billion, but when Rinehart is excluded that total wealth rose by A$2.7 billion to A$154.8 billion.
Fortescue Metals Group's Andrew "Twiggy" Forrest was down by A$2.23 billion to A$3.66 billion and political aspirant Clive Palmer lost A$1.65 billion to A$2.2 billion.
Strong equity markets gave a leg-up to some entrepreneurs, including former number one Westfield's Frank Lowy, gaming mogul James Packer and Visy recycling group chairman Anthony Pratt.
Ad boss John Singleton is up A$35 million on last year to A$355 million.
There are 14 women in the top 200, down from 16 last year. Therese Rein, the wife of former Prime Minister Kevin Rudd, dropped off the list after debuting last year.
- AAP