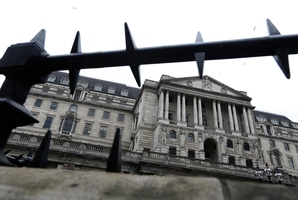 Britons should be braced for years of high inflation as the cost of living soars stubbornly ahead of wages, a leading economic forecaster warns.
The Ernst & Young Item Club said persistently high inflation had knocked almost 3 percentage points off the economy over the past three years and was set to remain above the Bank of England's 2 per cent target "for the foreseeable future".
The latest predictions dampen optimism over an easing inflation outlook set out in the bank's latest forecasts, which see the consumer prices index benchmark returning to 2 per cent by mid-2015. Figures from the Office for National Statistics are today set to show the first fall in the CPI since September as easing petrol prices bring down the annual rate of inflation from 2.8 per cent to 2.6 per cent in April, although this is still three times higher than average annual wage growth.
In contrast to the bank's cheerier view, Ernst & Young forecasts that CPI will remain elevated at 2.5 per cent throughout 201.
The forecaster warned that outgoing Governor Sir Mervyn King's "Nice" decade of non-inflationary consistent expansion looks gone for good as the price of imported goods from emerging markets continues to rise. Government policy decisions on tuition fee hikes are also set to raise the cost of living before a recovering economy bolsters workers' bargaining power and builds inflationary pressure, it added.
King will probably next month have to write a letter explaining a rise of more than 1 percentage point above the 2 per cent benchmark, Carl Astorri, the senior economic adviser at the Ernst & Young Item Club, said.
"One of Mervyn King's last acts as governor will almost certainly be a letter of explanation to the Chancellor to explain yet another inflation overshoot. And further out it's unlikely that the UK will get back to the Chancellor's 2 per cent target," he warned.
Ernst & Young's modelling showed the Monetary Policy Committee was right to allow inflation to overshoot without tightening policy, which the forecaster said could have sent unemployment soaring by an extra 625,000. But it added that the prospect of high inflation over the long term could also tie the MPC's hands on providing extra stimulus to the economy or giving explicit commitments to keeping interest rates low depending on the state of the economy a strategy incoming governor Mark Carney is known to favour.
Astorri added: "As part of their new remit, the Chancellor is keen for the MPC to provide the market with forward guidance, whereby base rates would remain on hold until intermediate thresholds are met, while maintaining the over-riding importance of the inflation target.
"But, with inflation still above 2.5 per cent, it's going to be tough, particularly if the MPC want to follow the US Federal Reserve's example of only increasing interest rates once unemployment has fallen below 6.5 per cent. Either way, Mark Carney looks set for a difficult tenure."