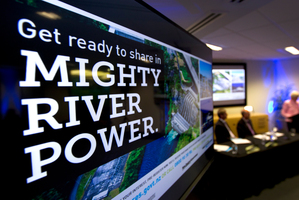 Newly-listed Mighty River Power's share price firmed by four cents to $2.55 this morning after falling to within one cent of its issue price on Tuesday.
Mighty River shares fell by 3.8 per cent to $2.51 on Tuesday, with 19.9 million shares, worth $51 million, trading.
One financial market source said it appeared that a large Australian investor had opted to "cut and run" on Tuesday after not achieving the desired level of exposure to the power generator and retailer.
He said it was natural to see volatility in a share price after an initial public offer and listing.
Mighty River shares debuted on the share market on Friday at a premium to its $2.50 issue price, trading as high as $2.73 before closing at $2.62.
The Government has emerged with a 51.8 per cent stake in Mighty River - slightly above its intended 51 per cent holding - according to a filing with the NZX this morning.
The other major holdings are held through nominee companies.
HSBC Nominees (NZ) has 6.2 per cent, JP Morgan Chase Bank 2.4 per cent and National Nominees with 2.0 per cent.
- APNZ