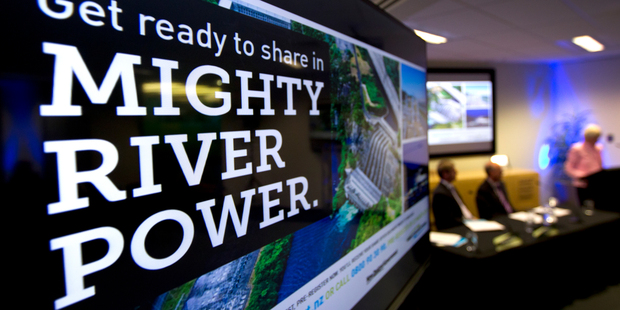 Research firm UBS has placed a "buy" recommendation on Mighty River Power shares and a 12 month target price of $2.82.
Mighty River Power debuted on the share market on Friday at a premium to its $2.50 issue price. The shares traded as high as $2.73 before closing at $2.62 on the first day.
This morning they were trading at $2.59.
In a note UBS analyst Wade Gardiner said based on his preferred valuation model, adjusted to reflect the overhang of the Government's asset sales programme, he put the value of Mighty River Power's shares at $3.17.
But that did not take into account the risks associated with the Labour/Green electricity policy and the potential closure of Tiwai Point and transmission price changes.
Taking those risks into account resulted in an 18c deduction for the Labour/Green policy, 6c for the Tiwai smelter and a further 11c for the transmission pricing changes.
UBS is forecasting a net dividend yield of 4.6 per cent for the 2013 financial year growing to 5 per cent in 2014 and 5.5 per cent in 2015.
Gardiner said its forecasts of long-term dividend growth provided a favourable view when compared to other defensive type stocks in Australasia.
"We see some scope for earnings to beat prospectus forecasts.
"Longer-term growth will come from market demand growth, and investment in geothermal development in the USA and Chile," he noted.